CLICK THE LOGO ABOVE TO GET BACK TO THE MAIN SITE
CONTACT US
Copyright © Kitley's Krypt
1998-2015
2013 RONDO AWARD
FOR BEST BOOK


CLICK HERE TO
ORDER NOW!
2006
12-31-06 A SLIGHT BREAK FROM THE KRYPT
Yes, we're still around. We had planned on getting a small update before Christmas, but as you can see that didn't happen. We basically took a much needed break from the site to try and be prepared for the end of year holidays. And along with that, trying to deal with the stress of our real job, things were getting a bit crazy. So we decided to actually spend time getting the stuff done that we needed to, and let the website sit for a bit. Hopefully, everyone else was also a little too busy to be upset that we hadn't updated our Mystery Photo in a few weeks...hopefully.
But as the year comes to a close, and our real life should be becoming a little less stressful for a while...at least we hope, we can now concentrate on the future. We do have bigger plans for this site and really hope to get those up and running early in 2007. Let's keep our fingers crossed. As well as more of the fun stuff that you come to expect from us.
And of course, a new year means a whole new year of conventions and memorabilia shows to attend. And 2007 is starting to look like it's going to be a very busy year for us too. So we hope to see you out there on the road during our Kryptic World Tour 2007! As always, stop by and say hello!
We are still not sure if we will be at the Chicago Fangoria show. There's some details we still need to work out, but we're hoping to be able to get a table there. If not, our first show will be a smaller show in the Chicagoland area, where they will be having a RETURN OF THE LIVING DEAD reunion show. While there's not a lot of details posted now, but keep checking back HERE for more info.
After that, we'll be heading to Ohio for one of our favorite shows, the Cinema Wasteland show. And with the reunions of FASTER PUSSYCAT...KILL...KILL, HELTER SKELTER, LITTLE SHOP OF HORRORS, and many other great guests, it's going to be a great time as always.
And then of course there's the Flashback Weekend and the first show for our buddies at HorrorHound. So needless to say, 2007 looks like to be a great year for Horror shows.
2006 IN REVIEW
In re-capping this last year, I think the best thing throughout the year, still continues to be all the great films that are being released on DVD. Yea, there's always those 2 and 3 disc special editions of the major blockbusters. But how about that 5 disc special edition of Richard Stanley's DUST DEVIL that came out? And for only $20! But there was also 2 different Boris Karloff collections, a great collection of classic horror films, including MAD LOVE, and even some great cheese-fest fun titles like HORROR AT PARTY BEACH. And of course we have to give a nod to CasaNegra Entertainment for releasing those great Mexican classics like CURSE OF THE CRYING WOMAN, WITCH'S MIRROR, and BRAINIAC, in beautiful releases, as well as Dark Sky Films for continuing to put out some amazing titles and in even more amazing releases.
One of the biggest highlights of this year was thanks to the incredible talents of Joseph Vargo and Christine Filipak of Monolith Graphics. They are the ones responsible for creating our logo. Working from just a thought, Vargo came up with an image that fit our site and our "Discover the Horror" tagline perfectly. I can't thank them enough for their work. It has really given an recognizable image for this site.
Another highlight from this year, which continues more and more each year, are our friends. Each year at the conventions we see old friends and make new ones. These people really are one of the reasons we have so much fun at the shows. There is Pam and Ken Kish from Cinema Wasteland, to Jill, Andrew & Chris from Lix, to Aaron and Nathan from HorrorHound magazine, Tony from Xploited Cinema, Buzz & Justin from Buzzworks, Joseph Vargo and William Piotrowski from Nox Arcana, Steve and Frank the T-shift guys, and to many, many more.
And then there's the usual suspects that I'm usually in attendance with. Like the ever-allusive Eric Ott, Will Wilson (we will ever get you out to another show???), Tattooed Phil (are you still alive?), Liquid Cheese creator Dave Kosanke, Hoby Abernathy, from way out in the Dakotas, and the man called Stone. We've been attending shows together longer than I can remember, and we all are still telling the same stores over and over again too! But doing shows without them just wouldn't be the same.
And let me not forget one of my newest buddies, Mr. Aaron Christensen. Not only is he a fellow movie addict like the rest of us, but is also a constant supporter of the Krypt, and is always there to give me a hand, shoot some advice or just give me the much needed pep talk I tend to need every now and then. It is much appreciated, my friend.
And lastly, a huge thanks to all of you out there that continually come back here to the Krypt and show support. For all the ones that send in their Mystery Photo guesses, to the ones that participate in our Trivia games, and the ones that stop by our table at the conventions or just drop us a line to say hi and that they have enjoyed their stay at the Krypt. You people are the reason that I'm still doing this after 8 years, and will continue to do so for many more to come. Thanks for making me still enjoy my little outlet here. It really does help keep the sanity.
LOSSES IN 2006
Let's take a second to remember those who have passed away this last year, and remember the great contributions that they made to our favorite genre.
Anthony Franciosa, Al Lewis, Akira Ifukube, Peter Benchley,
Darren McGavin, Dan Curtis, Alida Valli, Val Guest, Mickey Hargiaty,
Nigel Kneale, Jack Palance, Basil Poledouris, and Don Dohler
And one other great loss for local movie fans was when they tore done the Hi-Lite Drive-In earlier this year. While I don't think there's anyway to stop this trend, we can at least be thankful that we had the opportunity to enjoy the wonderful experiences that we did have there.
KRYPTIC MESSAGE BOARD - R.I.P.
We do wish announce another passing, though I think this has been dead for quite some time. And that is our Message Board. There is just not enough traffic through there to really keep us working on it. Our plan is to spend more time on other parts of the site, such as expanding our Merchandise section.
NOX ARCANA QUEST FOR THE DRAGON
Check out our review of the latest release from Nox Arcana. This time, they are fighting the dragons, with this awesome sword & sorcery themed release, BLOOD OF THE DRAGON.
HORRORHOUND #5
And the latest issue of HorrorHound should be hitting the news stands any day now. Packed full with the usual eye-candy and great articles and info on the genre, and giving props to John Landis' AMERICAN WEREWOLF IN LONDON as well. If you don't subscribe, we strongly suggest that you do. You won't regret it.
MORRICONE OSCAR
We wanted to mention this earlier, but still feel it's worth mentioning now, in case you had heard. But it seems that finally the Oscars are going to give some recognition to a person who genre fans have been praising for years. This Feburary, the Academy of Motion Picture Arts and Sciences will be giving an Honorary Award to Ennio Morricone for his musical contributions to over 300 films. It's always nice to see this political run business give the recognition to someone who really does deserve it.
MYSTERY PHOTO
Okay folks, this will be our last Mystery Photo for 2006. So we tried to go with something a little easier....well, maybe. You wouldn't want us to make it too easy for you, would you? Give it a try.
For the last photo, it was from BLOOD OF THE VAMPIRE. I had never realized just how bad the makeup was for the hunchback assistant until watching the recently DVD release from Dark Sky Films. Mike Shields was the only one to get the correct answer, though we did have a few other good tries.
12-10-06 BUSY WEEK
Sorry for the small update this week. Between the upcoming holiday and our real job, things have been pretty crazy around here. Plus, we have quite a few things in the planning stages now that we are trying to get finished.
The first thing will be the addition of the Kryptic Store. While we have always had some Reference Books for sale, and a few posters every now and then, we are going to try and not only list the books that we have, but everything. We are working on getting a complete inventory listing of everything that we have and will be putting that up in the Store. We are also going to do our best to keep our inventory updated as well. So not only will be able to find books, but also posters, lobby cards, and much more fun stuff. We are hoping to have this done and up on the site by the new year. So let's cross those fingers.
We also have some other great things planned, with more interviews, more reviews, and much more stuff to keep spreading the gospel in the new year.
MYSTERY PHOTO
I am amazed that someone was able to guess this last pic, since it was a tough one. Contrats to Andrew for naming DANGEROUS SEDUCTRESS. Thank the gods above to Mondo Macabre for bringing this wonderful film to DVD.
Take a look at this new one. It might be a little easier.
B-MOVIE FEST
We've been talking about going to this for the last few years, but never make it. So once again, we're going to try to make it, but we'll see. But if you are in the Chicago area and are interested in spending 24-hours of watching some great B-Movies, then this might be up your alley. You can see such classics as THE BRAIN THAT WOULDN'T DIE, REVENGE OF THE CREATURE, PLAN 9 FROM OUTER SPACE, STREET TRASH, TARANTULA, and many more. Check out the official site HERE. But if you are interested, make sure you get your tickets quickly since this always sells out very quickly.
12-4-06 DON DOHLER - REST IN PEACE

We just want to take a quick moment to post this very sad news of Don Dohler's passing. Fans of the low budget films of the late 70's / early 80's might remember some of Dohler's earlier work. Such films as ALIEN FACTOR & NIGHT BEAST have always been quality entertainment for me. I had the chance to meet Mr. Dohler at a Horrorfind Weekend convention a few years ago. Such a nice guy and very friendly. His earlier genre magazine, Cinemagic, inspired many fans to get into the business, including Tom Sullivan, makeup man for EVIL DEAD.
So it was very depressing to hear the news that he had recently passed away. Our thoughts and wishes go out to his friends and family.
12-3-06 KRYPTIC MYSPACE
We fought hard in regards to joining this latest dance craze. But it really the networking aspects of it are wonderfully. We have hooked up with people from all walks of life through here, and some we probably never would have come across. Right now, we are not posting anything on there, as far as bulletins and blogs, only because that's kind of what we do here. We're still working on the details as to if and what we want to be putting on there. But we'll keep you up-to-date here for those of you who aren't on MySpace.
So if you are on MySpace, send us a Friends Request, and we'll be happy to add you. Just click HERE.
JENNIFER RUBIN INTERVIEW
Last week, we were able to have a few minutes to talk to actress Jennifer Rubin. She starred in BAD DREAMS, the remake of THE WASP WOMAN, as well as being one of the Dream Warriors in NIGHTMARE ON ELM STREET 3. Check out what she had to say HERE.
NEW NOX ARCANA
Nox Arcana's latest CD, Blood of the Dragon, is now available. While this isn't exactly horror, knowing Nox Arcana, this is still going to be a great CD. These guys continue to create music that inspires terror, horror, tension, and other wonderfully dark moods. And I'm sure with this new one, they will be adding a few more emotions, such as excitement, to their palate. So click on the banner below to check out some samples of the new CD. I'm sure you know someone that would love to get one of their CDs for the holiday....
THE KINDRED COMING TO DVD
Next year will be the 20th anniversary for this little known monster movie. Yes, 1987 was 20 years ago...But none the less, it has always been a favorite of ours. Anytime you have Rod Steiger and a great looking rubber monster attacking people, how can you go wrong? This was way back before the CGI stuff folks, and it's done quite well for that time.
And thanks to the fine folks at Synapse Films, they will be unleashing a special edition release of this film next year. No word on the extras the disc will have, but according to Don May Jr., "We got all the original materials and checked the interpositives, and they're perfect; it looks like the movie was shot yesterday."
This is yet another title that we are looking forward to. And with Synapse doing it, you know it's going to turn out beautiful.
Thanks to Fangoria for the info.
GOING TO PIECES GOING TO DVD
This is also great news, since I never got around to recording this when it was playing on TV. But GOING TO PIECES: THE RISE AND FALL OF THE SLASHER FILM will be hitting DVD on March 20th. If you didn't get a chance to see this, you are going to want to pick up this DVD. They cover tons of different slasher films from the 80's, and talk to a lot of the directors. Well worth the addition to any serious student of the genre.
MYSTERY PHOTO
Will Wilson was the only one with the correct answer for this latest Photo. Though we did have some interesting tries. The shot was from the low budget film SLIME CITY. While it's not a great movie, I always found it pretty entertaining. The effects are great and that alone are worth watching it for.
So check out the latest pic and see what you can come up with.
NEW POSTERS IN THE GALLERY
We have added a bunch more posters to our Gallery, some with some amazing artwork. Make sure you stop by and check them out.
11-26-06 TURKEY DAY SURVIVAL!
Well, it was a tough time this year, sitting through the 4 movies we had lined up. First up was KING DINOSAUR, which was very fun, and is a riot. With a cast of 4, a T-Rex that looks strangely like an iguana, and a lot of stock footage, this was a blast to watch. This is one that the bigger the audience, the more fun it is.
Next up was EVIL CLUTCH. It had been quite a while since I watched this. And therefore I must have either completely forgotten it, or had it surgically removed from my memory. I couldn't believe how bad this film was. My sympathies and apologies go out to our friend Coralina Cataldi-Tassoni. We are always kidding her about that movie since we know she hates it so. And now we completely understand why.
The next film was TENTACLES, Ovidio G. Assonitis' "homage" to JAWS. Watching this right after EVIL CLUTCH, really was a test of endurance. It just kept going on and on and on. How that man was able to get the casts that he did is beyond me.
We were going to go with ROCK N ROLL NIGHTMARE, but after those last two sanity tests, we needed something a little bit more....turkey-lite. So we put in THE FROZEN DEAD. Now granted, this is still no real classic film. But it is at least entertaining , and actually does have some chilling moments. Why has this movie not gotten a DVD release???
We also didn't get to BARN OF THE NAKED DEAD, but as they say, there's always next year.
CORALINA AND THE MOTHER OF TEARS
And speaking of the lovely Coralina, we received an email from her recently and asked her about Argento's latest. And while she couldn't really give any info about the movie to keep the secrecy up, she did have this to tell us.
Being on this set was an amazing sensation. I truly felt like horror history was in the makes. Every one has put their heart into this movie and Dario especially. I am so so honored that he thought of me for this particular role. Just as he wrote Giulia for me in Opera. My main concern was and always is to make sure I delivered for 2 important reasons. Dario and my fans. The stake gets higher each time. I know my fans are loyal and for more the all reason I want to deliver something they can enjoy and respect. Now I just need to keep my fingers crossed and wait to see how I did.
I know there's a lot of anticipation riding on this film, so I got my fingers crossed! But I know I was happy to hear that Coralina was cast in it.
MOVIE MEMORABILIA SHOW
We did a small movie memorabilia show yesterday and actually had a pretty good time. It was only a 1-day show and pretty small. But it had a better turn out then I expected. Plus, we got to hang out with Jennifer Rubin, from NIGHTMARE ON ELM STREET 3 & BAD DREAMS as well. We had a chance to ask her a few questions about some of the movies she's worked on. That should be up on our Interview page in the next couple of days...hopefully.

And as usually, it's great to meet new people, both other fans and dealers. Across from us was the Horrorbles booth. They have a great selection of everything from movies, to toys, and quite a few other items to tempt your money from you. Plus, John the owner, is a great guy.
But even more exciting was when we were eating our lunch and opened up a bag of BBQ potato chips and found one with a cross burned into one, as you can see by this photo. If I was a religious man, I would have taken this as a sign. But since I'm not, I'll be putting it up on eBay hoping some religious nutcase would like to add it to their collection.
Next March, this show is expanding to a 2-day show, and is going to be featuring a RETURN OF THE LIVING DEAD reunion show. It will be on March 17th-18th, so you might want to mark your calendars for that one. You can check out their website HERE for details when they become available.
MYSTERY PHOTO
The last Photo was from PET SEMETARY. Actually got some new names for this weeks' lucky ones. Kristen and Angela join the regular Kevin Hart. As always, nice job. Now check out the latest and see what you can do.
STAY ALIVE CONTEST
Also, congrats to Mike Shields for being the first to send in the correct answers to our STAY ALIVE trivia question. The answers were NIGHTMARES, The Bishop of Battle, and Frank Zappa's daughter Moon Unit was one of the co-stars.
LIFEFORCE CD REVIEW
We've added our review of this new 2-disc release of the score for Tobe Hooper's LIFEFORCE.
11-19-06 EMAIL WOES
I really don't understand why I am plagued with so many email problems as of late. I've heard from a couple of people that emails to jon@kitleyskrypt.com are getting bounced back again. So we're not sure exactly if there are some emails that we didn't get. We had complete bypassed Comcast and these should be coming straight through the website. So I'm not sure what the problem is. But once again, I've set up another account to get these emails auto-forwarded to just to make sure that I'm getting them. If you did get an email to me bounced back, if you could please forward it to the following address: kitleys_krypt@yahoo.com. That way I can try to find out why they are getting bounced.
Once again, sorry for the inconveniences.
AFTER DARK HORRORFEST

Well, after initially planning to go to all of these films, we only hit 3 of them. We just had too much stuff going on, plus, at $10 a ticket, that was going to get a bit pricey. But we did see THE ABANDONED, PENNY DREADFUL, and GRAVEDANCERS.
We did enjoy all of them, each having their own merits. We won't go into any major spoilers below, but you don't want to know anything about them, then skip the next paragraph.
THE ABANDONED was beautifully shot and was a nice change from the normal 'horror movie' style. It did have a cool story, though a tiny bit predictable, and did have some shakey-cam stuff a few times that I didn't care for. But overall, I did enjoy it. PENNY DREADFUL was okay. About 80% of the film takes place inside the car. So I give them credit for doing something a little different than a stalk and chase film. But after a while, it did seemed to drag on a bit. And then the ending does move into the typical slasher motif, which was disappointing. But GRAVEDANCERS was excellent. Since we didn't care for Mendez's first film, THE CONVENT, we were worried about this one. There is some humor here, but nothing as silly as in THE CONVENT. But this is creepy, gory, and has some truly good scares in it. But I think the real standout highlight of the film are the creature designs. Major kudos to whoever came up with them. Awesome job. Can't wait for that DVD to come out.
HORRORHOUND WEEKEND ADDS MORE GUESTS
The HorrorHound Weekend has added a few more guests to their lineup for their first show. They have added Ken Foree, Bill Moseley, Tony Todd, Roberto Campanella (from SILENT HILL), and Dr. Satan himself, Walter Phelan. For more details on the show and a complete guest list so far, just click HERE for the official site.
ANNUAL TURKEY DAY MARATHON
Yes folks, that day is almost upon us once again. Now that the creepy atmosphere of Halloween is over, we can pull out the movies that are really a test of will and strength....the Turkeys. This year, here's some of the titles that we may be viewing, depending on how many we can get through: ROCK AND ROLL NIGHTMARE, EVIL CLUTCH, KING DINOSAUR, TENTACLES, THE FROZEN DEAD, and BARN OF THE NAKED DEAD. How's that for a lineup of some of the best in worst filmmaking?!?!?
So is anybody else out there having their own Turkey Day Marathon or Celebration? If so, let us know what you're watching.
MYSTERY PHOTO
Only 3 people with the correct answer for this last photo, which is pretty damn good considering how obscure this movie was. That little monster was the title character from SLITHIS, a cheesy monster movie warning the dangers of water pollution. And the unholy trio were Will Wilson, Kevin Hart and Mike Shields. Nicely done.
Now let's take a look at this one and see what you can do.
STAY ALIVE CONTEST
We have 1 copy of the STAY ALIVE DVD that we are giving away. But you have to do some thinking...or research at least, to win this. Below are three questions about another horror movie that featured a video game. Be the first to answer all 3 questions correctly, and you will be the lucky winner of the Unrated Director's Cut DVD edition of STAY ALIVE, starring Jon Foster, Sophia Bush, Frankie Muniz, and Samaire Armstrong. Make sure you read the questions carefully. Good luck!
1. Name a horror anthology film from the 80's that one segment featured a killer video game.
2. In that segment, what was the name of the video game?
3. Also in that segment, one of the co-stars is the daughter of a famous musician. Name the musician.
11-12-06 CINEMA WASTELAND GUEST UPDATE
The fine folks at Cinema Wasteland have added a few more guests to their Spring Spectacular show, and has the makings of yet another great time. They already have the the reunions for FASTER PUSSYCAT...KILL....KILL with Tura Satana, Haji, and Lori Williams, and joining Steve Railsback and Eileen Dietz for the HELTER SKELTER reunion will be Marilyn Burns. Yes, it's the same Marilyn Burns from the original TEXAS CHAINSAW MASSACRE.
And speaking of TCM, making his first appearance at the Wasteland will be John Dugan, who played Grampa in the original classic film. Looks like I'll be adding another signature to my TCM poster!
And then joining Jonathan Haze and Jackie Joseph from LITTLE SHOP OF HORRORS, though not 100% confirmed yet, will be Charles B. Griffith. If you are a fan of Roger Corman, then you know this man's work. Whether it was writing, directing, producing, he had a lot to do with those early Corman pictures. Griffith had his hand in great movies like INVASION OF THE SAUCERMEN, BUCKET OF BLOOD, to NOT OF THIS EARTH, and many more.
And then there's our favorite Zombie couple, Sharon Ceccatti and Clayton Hill returning to the Wasteland. You won't meet a nicer pair of zombies then these two. Plus, they have some great stories on working behind-the-scenes on DAWN OF THE DEAD as well as being in front of the camera.
So all in all, it's looking like a pretty damn good show is going to happen in April, as always. And as always, we'll be there to partake in the fun! Hope to see you there.
TWO MORE PASSINGS
This just does not seemed to be a good time for us genre fans. Everyone knows who Jack Palance was. Sure, that was mainly due to his role in CITY SLICKERS. But us genre fans know him from the plethora of great films that he was in. Like ALONE IN THE DARK, or WITHOUT WARNING, or even the older ones like in Dan Curtis' DRACULA and THE STRANGE CASE OF DR. JEKYLL. Palance passed away on Friday from natural causes. Palance was always a presence on the screen. One that will be missed.
And then we were also sadden to hear the news of the passing of composer Basil Poledouris. One of the first soundtracks I ever purchase was that of CONAN THE BARBARIAN. Poledouris' score for that was so powerful and emotional, I could not listen to it and not see and feel the movie in my mind. But he also gave us other great scores for movies like STARSHIP TROOPERS, ROBOCOP, and many more. Another talent that will always be remembered.
NEW REVIEWS
We also have posted 4 new reviews with this update. Yea, I can hardly believe it myself. So click on over there to hear our take on HEARTSTOPPER, WATCH ME, THE PROJECTED MAN, and LOVECRACKED: THE MOVIE.
MYSTERY PHOTO
Okay you Hammer fans....where were you? Only one lucky entry this time out, and that was from Mike Shields. The lovely lady with eye problem was from Hammer's HANDS OF THE RIPPER. This is not one of their more well known titles, but is still well worth seeking out.
So check out the new one and see what you can come up with. Good luck!
11-05-06 ANNIVERSARY CONTEST WINNERS!
Contrats to our 4 winners: Bruce Kowalski, Angela Podhradsky, Christine Fidance, and Rick Hayden. Their special prize packs will be going out in the mail shortly.
I would like to thank everyone who not only participated, but all of you out there that continue to support us. It really is what keeps us going. If we weren't having fun here, we would have stopped a long time ago. So thanks again.
NIGEL KNEALE - REST IN PEACE

We had planned on posting this news when we first heard it, but just never got around to it. But we did want to make sure we mentioned it now, even if it's a week old. Nigel Kneale was the creator of so many Sci-Fi and horror teleplays for British Television, that's really hard to count. Of course, his most widely known series was the Quatermass series. From the original 3 teleplays, to the 3 Hammer versions, and another one made in the late 70's, and then even another one just last year, he kept the wonderful character of Prof. Bernard Quatermass busy trying to save the world.
So it was very sad to hear that this great writer and creator of wonderful stories had passed away on October 29th. Our thoughts and wishes go out to his friends and family. He is one voice in the the Sci-Fi/Horror genre that will be dearly missed.
So if you're not familiar with Kneale's work, now is the perfect time to discover some wonderful and entertaining stories. We highly recommend starting with Hammer's Quatermass series.
HORRORHOUND WEEKEND
We were tickled when we heard this news. It seems the HorrorHound boys have decided to not only put out a kick-ass magazine, but also having their own convention! It will be in July of next year, in Indianapolis, Indiana. Below is their guest list so far. I know we will be there to celebrate their first show (and hopefully many more). For more info and details on the show, click HERE.
Michael Biehn: Star of Grindhouse, Terminator and Aliens
Michael Bailey Smith: Pluto in the Hills Have Eyes remake
James Duval: From Donnie Darko, May and Independence Day
PJ Soles: From Halloween, Carrie and The Devil's Rejects
Sean Clark: Horror's Hallowed Grounds creator and star
NEW REVIEWS
We've posted our review of James Gunn's SLITHER and John Gulager's FEAST.
NEW POSTERS ADDED
We have also added a few more posters to our Poster Gallery. Enjoy!
DO YOU REMEMBER GOING TO HORRIBLE HALL???

Talk about getting a severe flashback! I don't remember when this release snuck out, but it seems that the cartoon series from 1970-71, The Groovie Goolies, had snuck out onto DVD. That was one of my favorite shows when I was growing up. Go figure. It's funny how you can remember certain things from when you were only 5 and 6 years old. Needless to say, we quickly picked this one up. Couldn't believe how many things that I had forgotten about, but then also all the stuff I did remember. For those who have no idea of what I'm talking about, it was kind of like an animated monster version of Laugh-In. Okay, if you don't remember Groovie Goolies, you probably don't know what Laugh-In was either. Oh well, I do, and my son and I have been having a great time watching all of these old episodes. From the terrible jokes from Frank, Drac, Wolfie, the Mummy, and Ratso & Batso, it's all good monster fun.
MYSTERY PHOTO
We had another really tough one this time, which nobody guessed correctly. It was from BARN OF THE NAKED DEAD (aka NIGHTMARE CIRCUS), one film that Andrew Prine would like to forget about.
Give a peek at the new photo and see if you know this one.
10-29-06 2 MORE DAYS FOR OUR ANNIVERSARY GIVEAWAY!
If you still haven't sent in an entry for our Anniversary Giveaway, you only have 2 more days! Any entries sent in after midnight on the 31st will not be accepted. For more details on the Giveaway, click HERE.
UPCOMING EVENTS
With Halloween almost upon us, it seems that our season is almost over. But that's not entirely true. Next month we have the After Dark Horrorfest that is happening on the 17th through the 19th, where they are showing 8 horror movies over the 3 days period. These are movies that probably won't get a wide release to begin with, so they could be worth checking out. The titles are:
UNREST
PENNY DREADFUL
THE GRAVEDANCERS
THE HAMILTONS
REINCARNATION
DARK RIDE
THE ABANDONED
WICKED LITTLE THINGS
I'm really looking forward to THE ABANDONED, since it is the first feature film from Nacho Cerda, who gave us the very disturbing AFTERMATH. And from what I've seen of Mike Mendez's newest film, THE GRAVEDANCERS, that might be pretty cool as well. But overall, when somebody is going to release 8 horror films to the theater that probably wouldn't normally get a wide release, even if only for 1 weekend, I'm going to do my part and support them. Luckily, there is a theater somewhat close to us where we can check them out. Click on the link above for more details about the movies, as well as the locations of the theaters that are participating.
But it's not even too early to start making those plans for the shows and conventions happening early next year. The first one up is the Monster Mania show in Cherry Hill, New Jersey on Feb. 16th to the 18th. We were at the very first show and had a good time. Then last August, we went to another one of their shows and had a blast. So far they have a pretty decent guest list building, so we may end up having to check this one out as well.
They will be having the first MONSTER SQUAD reunion there, with guests Fred Dekker (director), Duncan Regehr (Dracula), Andre Gower (Sean), Ashley Bank (Phoebe), Ryan Lambert (Rudy), Tom Woodruff Jr. (Gillman), and Tom Noonan (Frankenstein). They also will be having a SAW trio of Tobin Bell, Leigh Whannell, and Shawnee Smith. Other guests include Emily Perkins, Brad Dourif, Patricia Quinn, Ben Chapman, and Caroline Munro. Check out their website HERE.
Then the following weekend, Fangoria returns to Chicago in Feb. 23rd-25th. This will be their first 3-day show in Chicago. We had a good time there earlier this year when they made their return to the Windy City, even though we did hear a lot of complaints about the show. But none the less, we will have a table there again next year and see what happens.
So far on their guest list is: Bill Moseley, Sid Haig, Ken Foree, Shawnee Smith, Doug Bradley, Jeffrey Combs, Jared Padalecki, Tim Seeley, Raine Brown, and Joe Zaso. I'm sure there will be more names added before the show. Check out the details HERE.
And then at the end of March, we will back in Ohio for the 11th Cinema Wasteland Show, on March 30th to April 1st. And already the Wasteland staff has got some major fun planned for their show. Fans of fast and tough women will have a chance to meet the 3 lovely ladies from Russ Meyer's FAST PUSSYCAT...KILL!...KILL! That's right, you'll be able to meet Haji, Lori Williams, and the one and only Tura Satana.
Also at the show will be Steve Railsback and Eileen Dietz making a HELTER SKELTER reunion. Another reunion will be with Jonathan Haze and Jackie Joseph from Roger Corman's LITTLE SHOP OF HORRORS. Other guests include Bill Hinzman, Camille Keaton, Kari Wuhrer, Tom Sullivan, and the the beautiful Hammer starlet, Caroline Munro. As always, this show is guaranteed to be a good time.
Check out the website HERE for the official details.
MYSTERY PHOTO
Got 2 correct answers on the last photo, and to be honest that's 2 more than I thought I'd get. We went with a tough one again, so we didn't think anybody would get it. Nice to know there are some deep rooted Paul Naschy fans. That pic was from Naschy's EXORCISM. A nice hand goes to Mike Shields and to Andrew.
Check out the new one and good luck, since we're going with another tough one. Figure if you don't know what movie it's from, afterwards when you find out, then you'll always remember it. See that...fun AND educational, all at the same time!
10-25-06 REMEMBERING VINCENT PRICE
We just wanted to take a quick second to remember this great actor who passed away 13 years ago today. As a fan of horror movies, or terror movies as Mr. Price would preferred, he was one of the earliest of my Horror Heroes. And after all these years, his movies are still as entertaining now as they were all those years ago.
You were one of a kind, Mr. Price, and you are truly missed. But you will never be forgotten.
NEW HELLRAISER BOOK
We forgot to post this with our last update, especially since we were talking about the HELLRAISER series. But now it seems there is a new book coming out, covering the series. Coming out next month from McFarland will be The HELLRAISER Films and Their Legacy, by Paul Kane. Amazon is listing it as a hardcover, with a nice price of $45. I know I'll be adding that to my Christmas list.
LA-LA LAND HALLOWEEN SALE
Now's your chance to save some huge $$ and pick up some great soundtracks. La-La Land Records is having a huge Halloween sale on a lot of their great titles. The below CD's are only $6.98! But act fast, since the sale ends November 1st. So you got less than a week. Go to their website by clicking HERE.
SEED OF CHUCKY
UNDEAD
ROCK 'N ROLL NIGHTMARE
CREEPSHOW
CABIN FEVER
TEXAS CHAINSAW MASSACRE
KING OF THE ANTS
SAINT SINNER
TERROR TRACT
THEY
THE BUTTERFLY EFFECT
These CD titles are on sale for $9.98:
THE DEVIL'S REJECTS
GODZILLA 50th ANNIVERSARY EDITION
KING KONG vs. GODZILLA, EFFECTS
RE-ANIMATOR
FROM BEYOND
10-24-06 AM I TOO OLD?
The other night, I watched the Fangoria Chainsaw Awards on Fuse, and am very confused. Could someone tell me why it seemed to be more about music than movies? And why have the categories become strangely similar to what the MTV movie awards were doing. Best Killer Couple? Highest Body Count? Sure, maybe if I was 14 that would be cool, which I guess is the audience they are shooting for. But for a 41 year old horror fan, I thought not only was it a waste of time, but some parts were just plain embarrassing. If it wasn't for THE DEVIL'S REJECTS winning a few awards, and the small bit with Clint Howard, it would have been a complete waste of 2 hours. And to think I was going to record it...
Does that mean that Fangoria is going to start covering dark music videos in their magazine? Can't wait for that.
NEW REVIEWS
And speaking of a waste of time, we finally got our review posted for BLACKWATER VALLEY EXORCISM. If you need more detail than that, check it out in our Reviews section. We have also reviewed the soundtrack for the TV show SUPERNATURAL, which is not a waste of time.
KRYPTIC CONTEST
Don't forget folks, if you haven't sent in an entry for our Anniversary Giveaway, you still have about a week left. Check out the news bit below for the info and the email link. You don't want to be left out on this one.
MYSTERY PHOTO
We had a lot of tries on this last one, but no correct answers. No, it wasn't LOST BOYS, or Andy Warhol's BLOOD FOR DRACULA. It was from Hammer's DRACULA 1972 A.D., and that was Christopher Neame being forced into the bathtub by vampire killer extraordinaire Peter Cushing.
Check out the new photo and see if this one is any easier. But be warned....it's a tough one.
BARKER TO RAISE HELL AGAIN
In case you didn't hear, it seems that Clive Barker is going to write a remake of his original HELLRAISER. He figured that instead of someone else doing it, he would do it himself. Plus, this time out, there would be more money to do effects and stuff that they couldn't afford to do in the first one.
Now while quite a few people don't think is great news, I really don't see it as bad news. For someone who as seen the last few HELLRAISER movies, could it really get any worse? I would like to think not. Now I'm sure that Barker will take it into a different direction that everyone is used to seeing Pinhead, but I'm willing to give him a chance to see what he can come up with.
10-17-06 COMCAST SUCKS!
Don't want to waste your time on my problems, but I just wanted to take a second AGAIN and apologize for any emails that you might have sent and got it bounced back. We have been getting all the emails that are sent, only because I have them also being directed to a web-based email account as well as the Comcast one. I did this to make sure I was getting everything. So for me, Comcast's days are numbered, as soon as I can find another high-speed provider, which shouldn't be too hard. Their tech support is terrible, unless you like sending emails. Talking to a real person that can help you beyond turning on your computer and setting up an email account is beyond them, and then you just have to email another department.
For everyone that has sent in their Giveaway emails, we have got them, so don't worry.
WASTELAND & MASSACRE REPORTS
Thankfully that we've been on vacation this week, or it would have taken even longer to get these reports finally done. So we have got our reports and photos up for both the Cinema Wasteland show and the Music Box Massacre. Check them out HERE and enjoy!
10-13-06 HAPPY FRIDAY THE 13TH!
I hope everyone is taking the time to celebrate this special day (especially when it's in October) in some form or another.
A WEEKEND OF MADNESS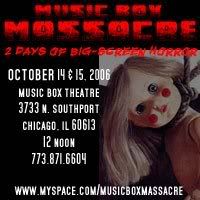 No, we're not talking about last weekend at the Wasteland. We're talking about this weekend at the Music Box Theatre in Chicago for the Music Box Massacre, a 24-hour marathon of HORROR!!! Thanks to promoter Rusty Nails, you will be able to see classics on the big screen like Fulci's ZOMBIE, and the original CABINET OF DR. CALIGARI, and Argento's DEEP RED, and Joe Dante's PIRANHA, or Joe Dante himself! He will be there for a Q&A after the showing of PIRANHA. And another cool bonus is they will be screening the much underrated LET'S SCARE JESSICA TO DEATH, and director John Hancock will be there for a Q&A session as well!
We will be set up with a dealer table there this year, right next to our buddy Jill from Lix. So if you're coming on out, please make sure you stop by and say hello. And Click HERE for the full details and lineup for the show.
KRYPTIC ANNIVERSARY GIVEAWAY
Since we had those problems with the emails, we're not really sure who might have sent in emails for our giveaway contest or not. So we are going to sort of start over. I apologize to the ones that already sent it in, but I don't want to have the chance on missing anyone. So if you could follow the directions below for our contest, we'll get this thing moving.
Here's what we're going to do. Click HERE to open the email. And in that email, you list at least one director that not only made a horror movie, but also directed the sequel to that horror movie. For example, while these aren't horror movies, Francis Ford Coppola directed GODFATHER and went on to direct GODFATHER II. Got it? Pretty easy if you really think about it.
So what are the prizes? Listen closely. We have 4 prize packs to give away. And in these prize packs will have a variety of different goodies. One might have a DVD copy of NIGHT WATCH. One might have a copy of the latest Nox Arcana CD, Carnival of Lost Souls, signed by Joseph Vargo. But they all with have a awesome Monster tote bag, some skull pendants courtesy of Pinkerton FX, mini posters, some Universal Monster playing cards, and whatever else we can through in there. So don't delay. Send those emails in right way.
SLAUGHTERED LAMB STUDIOS
Our friend and damn talented artist, Don England, has finally gotten around to opening up his own website. Check it out HERE.
WASTELAND REPORT COMING
Since we are on vacation next week, we should have our report of the last Wasteland show up early next week. And we do have some good pics this time out.
And it's not too soon to start making your plans for next April's Wasteland show. They will be having a FASTER PUSSYCAT...KILL...KILL! reunion! That's right, Tura Satana, Lori Williams and Haji will be attending. And along with them will be Jonathan Haze, Bill Hinzman, Camille Keaton, Caroline Munro, Steve Railsback, and Eileen Dietz. Plus, I'm sure they will have a few more guests added before then. You can check out their website HERE for the details.
MYSTERY PHOTO
We got only one email on the last photo, which was from Will Wilson. But that could be due to the fact that our email wasn't working properly. So if you did send one, I apologize. And if you did know that it was from GARDEN OF THE DEAD, then I also compliment you as well, since that one was a tough one. If you need to kill an hour and want a low budget prison/zombie movie, then you can't do better than GARDEN.
But we've updated the photo, so take a look at see if this one might be a little more familiar.
10-09-06 A DAY OF REST....
At least that was what today was suppose to be. After getting home at about 1am last night from the Cinema Wasteland show, and being so tired that we couldn't fall asleep until after 3am, and only to wake up at 7am and not be able to fall back to sleep....in other words, we didn't get much done today.
We had a blast as always as the Wasteland show. There really is no other show like it. And while we didn't take a lot of them, our photos turned out this time!!! So that was a nice relief.
I had planned on getting somewhat of a bigger update today, but that just wasn't going to happen. I'm sure it had nothing to do with me spending quite a bit of time on the phone with Comcast. What a joke. Here's some tips, people: If you have problems with your Comcast account, don't bother calling them. Just go through their website and hope for the best. Trying to find someone at Comcast that can actually do something to help you is like asking for help at the airport. All you get is a lot of pointing to someplace else. It seems their tech support can't really help you with anything technical, but have to turn you over to someone else. Of course, you have to email those other people, since nobody is allowed to talk to them, including the Comcast tech support. What kind of crap is that?
So after hours of fun, and assurance that the problem has been fixed, we've added a few steps to doublecheck. We've opened another email account that will receive our website emails as well as going to Comcast. That way I can make sure I'm getting everything. So we'll have to see. If that doesn't work, then I guess we'll have to go back to the way of the postal stamp!
We will be at the Music Box Massacre this weekend, so we are busy unpacking from the Wasteland show, and then making sure we have everything ready for the Massacre. We are hoping to have a little update in the middle of this week, but we'll see how that goes. If you are planning on coming out this weekend, please stop by and say hello. We are going to need plenty of conversation to help stay AWAKE for 24 hours!!!!
10-3-06 EMAIL IS DOWN...KIND OF
It seems that our email provider is bouncing back emails sent through this site as spam. Not sure why, and neither does Comcast. One would think that a company as big as Comcast would have a 24/7 technical support that can help you out on something a little bit more difficult than how to turn on your computer. Apparently not.
So in the mean time, I apologize if anybody has sent in any Mystery Photo replies or emails about the our Giveaway, since we have received none. Please bear with us while we try get this problem solved. If you want, you can contact us through out Comcast email: drfulci@comcast.net
Once again, sorry for the technical difficulties.
10-1-06 TECHNICAL DIFFICULTIES
We seemed to had run into some problems with our email account over the last couple days. So if you sent us an email but didn't get a response, please try sending it again. I'm hoping we got the problems resolved.
THE MONTH OF HORROR IS UPON US
Greetings fellow followers of the the dark, the macabre, and horror. This is the month that we almost fit in with normal society...not that we'd want to. But this is also the month that usually cost me a lot of money, since the stores have out all their Halloween decor and products, that I pretty much keep around all year round. And it's also the time when a lot of premo horror titles come out on DVD. I know I've spent quite a bit of my son's college money already last month. And it's only going to get worse. And then you add in all the conventions, Halloween Parties, movie marathons and other fun stuff going on, it makes for a very busy month. Plus, we even have a Friday the 13th this month! How cool is that?
We know we'll be busy, but we're hoping to keep our updates as regular as they have been. So stay tuned!
8 YEARS OF KRYPTIC FUN!
This month marks the 8th Anniversary of Kitley's Krypt. It does amaze me sometimes that I've done this for this long and that I'm still enjoying it. Hell, this gives me an outlet for my ranting and other opinions. Maybe I'd be locked up in the rubber room by now. So I guess the real reason is this is therapy for me.
I have meet some great people through this website and at the conventions when people come up to my table. It makes all the hard work worth it. So thanks to everyone out there that continues to come back here, participating in the Trivia games, the Mystery Photos, the Message Board, and everything else. Thank you.
So in the spirit of this celebration, we are going to start our first Prize Giveaway. All you have to do is send us an email by clicking HERE with your name, and letting us know something that you are going to do this month to celebrate the Halloween season. Going to watch a particular movie? Having you're own Movie Marathon? Let's hear it. All the entries will be thrown in a cauldron and one lucky name will be drawn.
And what is the wonderful prize? It will be copies of two great little books from McFarland Classics. The first one is Down And Dirty: Hollywood's Exploitation Filmmakers and Their Movies, by Mike Quarles. The second one is Roger Corman: The Best of the Cheap Acts, by Mark Thomas McGee.
Since we are going to the Cinema Wasteland show, we will accept emails up until Sunday night of the 8th. So let's get those emails coming!
MYSTERY PHOTO
Did a little better this time out with last week's photo....well, we got 2 correct answers. Aaron Christensen joins the returning Mike Shields with both having the correct answers. That was Martin Landau as the psycho "Preacher" from ALONE IN THE DARK. No, not that terrible one from Mr. Boll gave us.
So the new photo has been posted, so give it a look and see what you can come up with.
THE HOST SCREENINGS
If you've spent anytime browsing the different horror news sites over the last six months, then you might have heard of THE HOST, a new monster movie from South Korea. If you live in the Chicago area, then you have a chance to see it in the theater during the Chicago International Film Festival. Below are the dates and theater that it is showing. I know we are planning on making it out to one of those.
Landmark's Century Centre Cinema, 2828 N. Clark
Friday, 06 October 11:00 PM
AMC River East 21, 322 E. Illinois
Friday, 13 October 11:00 PM
Landmark's Century Centre Cinema, 2828 N. Clark
Wednesday, 18 October 07:30 PM
NEW SLASHER DOCUMENTARY TO AIR ON FRIDAY THE 13TH!
GOING TO PIECES, a brand new documentary based on the book of the same title by Adam Rockoff, will be premiering at 8pm on Friday the 13th on the Starz Channel. It will feature interviews with people like John Carpenter, Betsy Palmer, Tom Savini, Rob Zombie, Wes Craven, Sean Cunningham, and many more. If case you have other plans already for that evening, it will showing again on the 14th at 6:30 and on the 31st at 10pm. All times are CST.
WASTELAND NEXT WEEKEND
Next Friday we will be making our bi-annual trip to the land of Ohio for the Cinema Wasteland show. As always, we are looking forward to having another great time there. We hope to see a lot of old friends and hopefully meet some new ones as well. Better start gathering my TCM2 stuff together now....As always, if you're going, stop by our booth and say hello!
CHICAGO FANGORIA SHOW
Fangoria has added a few more names for their 3-day show next Feb. in Chicago. Joining Doug Bradley and Jeffrey Combs, will be Jared Padalecki, Bill Moseley, Sid Haig, and Shawnee Smith. Since Smith has never been to a midwest show, I have a feeling that might be a pretty good draw. I'm sure they'll have quite a few more names added by then. The dates are Feb. 23-25, 2007.
CORALINA JOINS MOTHER OF TEARS
And speaking of Fangoria, it was great to see this little news bit on their site about Coralina Cataldi Tassoni joining the cast of Argento's latest, MOTHER OF TEARS, the sequel to SUSPIRIA and INFERNO. Maybe now they'll actually want her to be guest at one of their conventions!
But none the less, we are thrilled as hell about this news. We wish Coralina the best of luck over there in Italy and can't wait to hear more.
9-24-06 NEW REVIEWS
We have a couple of new reviews posted. This time out, we take a look at Dark Sky Films release of THE DEVIL'S RAIN, always a favorite of ours. And also LEFT IN DARKNESS, from the director of IT WAITS!
MYSTERY PHOTO
And speaking of THE DEVIL'S RAIN, that was last week's Mystery Photo. We had a lot of people with titles that also included melting people, but just didn't get the right one. Which is why I used that particular shot, since the other ones would have made it too easy. But we did one right answer. And that was from Mike Shields. Job well done, Mike.
So check out this latest and see what you can come up with.
MICKEY HARGITAY - REST IN PEACE
It's a shame that his obituary's are being started with "Mariska Hargitay's father". But fans of Italian horror from the 60's and 70's will remember Hargitay from his work in the genre. Like LADY FRANKENSTEIN and BLOODY PIT OF HORROR.
But he recently passed away after a lengthy illness. He was 80 years old. Our thoughts and best wishes go out to his friends and family.
AUTHOR CHARLES L. GRANT - REST IN PEACE
Now we usually don't cover that much in the horror fiction world here at the Krypt. But when we heard the news of Mr. Grant's passing, I felt I needed to mention it. Back in the days when I was just as heavy into horror fiction as I am now into the films, I always enjoyed Grant's work. A lot of his stuff was way more subtle and subdued than his fellow authors, but was still very effective.
Our thoughts go out to his friends and family as well. The horror genre in general has lost a great voice.
B-FEST
Every year we plan on making it out to this, and every year we never do. So once again, we are going to try. They've updated the site with a listing of some movie titles so far. And right now, it looks like they got a great lineup: INCREDIBLE MELTING MAN, STREET TRASH, HOT RODS TO HELL, TARANTULA, IVASION OF THE STAR CREATURES, and more. Sure sounds like a great time. Maybe we'll make it this year. For more info, check out the site HERE.
HOLLYWOOD BLVD. THEATRE EVENTS
This theater out in Woodridge, Illinois has some pretty cool events coming up next month. On Wednesday, October 4th, the original Leatherface will be making an appearance at the theater.
But the real highlight is for fans of Alfred Hitchcock. On October 13th,14th, & 15th, and again on October 20th, 21st, and 22nd, they will be screening Alfred Hitchcock's VERTIGO, MARNIE, NORTH BY NORTHWEST, and THE BIRDS. And helping to celebrate this festival, Patricia Hitchcock, Kim Novak, Tippi Hedren, Rod Taylor, and Veronica Cartright will be appearing. Now, I'm not sure when exactly they are going to be there, since the website doesn't give any detail, but we will be looking into it ourselves. HERE is the website for the theater.
NEW MESSAGE BOARD VERSUS
Okay, since we got such a huge response to last week's VS, we're going to try it again. Come on people, let's here what your thoughts are!
This week it's a little different. Instead of having two movies versus each other, we're going to have two performances going at it. And they are both from the great Boris Karloff. The first one is his most famous, the Frankenstein's Monster. And the second one is that of Im-Ho-Tep from THE MUMMY. For more details, go over to our Message Board.
DARK SKY NEWS
Continuing their work of bringing exceptional looking titles to DVD, next January they will be unleashing the 1962 film SLAUGHTER OF THE VAMPIRES. The film was directed by Roberto Mauri. The new release will be an uncut transfer that has been taken from the original vault material, which means like their other releases, it's going to look amazing. We can't wait for this one. There will also be an interview with star Dieter Eppler, a still gallery, and a trailer.
9-17-06 KRYPT ANNIVERSARY NEXT MONTH
Yes folks, next month will be our 8th anniversary running Kitley's Krypt. I, myself can't believe that I've been doing it for this long. But it's still fun, so until that changes, I'll always be here. I am also very thankful for the continued support from those of you out there that keep coming back for more. I do appreciate all the emails and support. It does keep me going.
So next month, we are planning on some new pretty good giveaways. Of course, any of of you DVD companies out there that would like to donate some prizes, we would be more than happy for the help. But none the less, we're still working on all the details, and it should be pretty fun. So stay tuned.
MESSAGE BOARD VERSUS
Since our Message Board has been pretty lonely as of late, we are going to start a new feature that we're hoping will bring in a little dialog. Each week, we will list two films to battle it out. But before you start looking for your boxing gloves (which make it very hard to type that way), these are going to be F-R-I-E-N-D-L-Y debates. We are not looking to taking a poll to see which is a 'better' film, but only to express your opinion you like better and why. Pretty simple, isn't it?
So check out our Message Board and give you're two cents worth.
TCM WEBSITES
The folks over at Dark Sky Films have created a new and cool website to promote their new release of the original TEXAS CHAINSAW MASSACRE. Got to tell you folks, I really hate these multiple releases, but this was done look pretty damn cool. Check out the website HERE. They even have some cool wallpaper.
And speaking of TCM websites, check out this fan-site which is pretty cool. It's call the Texas Chainsaw Massacre Morgue.
MORE POSTERS ADDED
Thanks to some 'donations' from the fine folks at HorrorHound magazine, we have added a few more Thai posters to our Poster Gallery. Check them out, and enjoy, and drool.
MYSTERY PHOTO
Looks like there are some fans of those Italian horrors of the 60's out there. The last photo was from THE DEVIL'S NIGHTMARE, starring the lovely (and deadly) Erica Blanc. Nice job to Bruce Kowalski, Mike Sheilds, Kevin Hart, and Hoby Abernathy.
So check out the new one and see what you got.
9-11-06 LON CHANEY JR. FANS REJOICE
Fans of Chaney Jr. will be happy to hear that the 6 films that he did under the INNER SANCTUM MYSTERIES series will be coming out in a DVD box set next week on the 19th. The titles of those films are CALLING DR. DEATH, WEIRD WOMAN, DEAD MAN'S EYES, THE FROZEN GHOST, CONFESSION, and PILLOW OF DEATH.
Granted, some of these are really more mystery than horror, but it's great to see that more of Chaney Jr.'s work can be enjoyed.
MYSTERY PHOTO
I figured that last one was a tough one. Mainly, since it's never been officially released on video. It is from the 1966 film THE FROZEN DEAD, starring Dana Andews as Nazi scientist trying to create a super-human race. Congrats to Kevin Hart, Hoby Abernathy and Mike Shields for sending in the correct answer.
This next one may be tough as well, but hopefully some of the fans of Euro-horror might recognize that beautiful face?
WHEN WAS THIS ANNOUNCED???
I get the new Fangoria recently and notice one of the DVD's reviewed in Dr. Cyclops column is none other than THE NORLISS TAPES! I don't remember hearing or reading ANYTHING about this movie hitting DVD. In case you might not be familiar with this movie, it was a made-for-tv pilot that was never picked up. It was directed by Dan Curtis, of DARK SHADOWS & THE NIGHT STALKER fame. Anybody who grew up watching TV in the 70's knows who Curtis is and his work. Well, TAPES is a great little movie. Sure, it might be a little similar to THE NIGHT STALKER series, but we for one can't wait to see this DVD release. Hopefully Anchor Bay did a nice job on it.
9-5-06 POSTER GALLERY BACK UP AND RUNNING
The dust is still settling, but we are proud to once again re-open our Vincent Price Memorial Poster Gallery. I think you will find plenty to admire and enjoy.
9-3-06 NEW ISSUE OF LITTLE SHOPPE OF HORRORS
For Hammer fans, Dick Klemenson's magazine Little Shoppe of Horrors is one of the best magazine around. Unfortunately, it doesn't come out that often. But when it does, it is always jammed packed full of great information and interviews about the famous British film studio.
Well, this month, issue # 18 will be unleashed. In this issue, there are articles on the making of CAPTAIN KRONOS: VAMPIRE HUNTER and DR. JEKYLL AND SISTER HYDE, and many others. There's interviews with Caroline Munro, Martine Beswicke, the late Ralph Bates, Roy Ward Baker, and many more.
Check out their website HERE, or click on the graphic to the right, for more ordering information. For the price of $7.95, these magazines are always jammed packed. No Hammer fan should be without it. Seriously.
POSTER GALLERY UNDER CONSTRUCTION
We've decided to go back to the old way we had our Gallery set up, but with a few changes. Since we were having a hard time rotating the 'exhibits', we figured we'd just post all the pics that we have, and just add the new ones when we get them. It will still give anybody visiting the gallery plenty to look at. We hope to have it done and up and running by our next update, if not sooner.
NASCHY DVDs THIS MONTH!
And for those Naschy fans out there, let's not forget that this month will see the release of the first two editions of the Spanish Horror Collection from BCI. The release date is 9.19, which is only a couple of weeks away. So make sure you get those pre-orders in now. They are even releasing HD versions of the DVD as well.
NEW HORRORHOUND COMING THIS MONTH
It may sound like we're pimping this magazine an awful lot, but there's a reason for that. It's because we think it's one of the best magazines out there! It reminds me of when I was a kid and would wait for the Christmas catalogs to come out. There's always so much cool stuff to look at in each issue, and plenty of interesting info and facts.
So if you haven't already subscribed to it, click HERE to go to their website and do it now. It's worth it.
ROCK 'N' ROLL NIGHTMARE SOUNDTRACK REVIEW
Who would have thought that there would not only be a special edition DVD of ROCK 'N' ROLL NIGHTMARE, but also a soundtrack release? Not me. But we have posted our review of this latest release from La-La Land Records. Check it out.
MYSTERY PHOTO
Nice to see some people still remember those two icons. Of course they are Vincent Price and Peter Cushing from MADHOUSE. It was great to see that finally come out on DVD last year, since it had never had an official video release here in the states. The usual suspects sent in the correct answers. Are these the only people out there that are viewing this site? That could be pretty scary. Or is there that many people who just don't know these photos? That's even scarier. Come on people, don't you want to see your name proudly posted here? Guess not. None the less, once again congrats goes to Aaron Christensen, Mike Dudley, Stephen Weakley, Kevin Hart, and Hoby Abernathy.
Well guess what folks, this new one is a tough one. So get your thinking caps on, much like the one if the photo itself and see if you can gets this one, which is also sadly in need of a DVD release.
I LOVE EBAY!

What a great time to be a collector. When I started collecting, you basically saved your money up until you went to a convention and hoped like hell there were some good dealers there with some cool stuff. Now, in the privacy of your own home, you just pop on ebay and search 'dealers' from around the world. All in a matter of seconds. Now that does put quite a bit of competition for dealers, myself now included. But when it comes right down to it, I'm a collector first, a dealer second. Hell, that's why I became a dealer. So whatever money I made, I could put it right back into my collection! And I bet I'm not the only one.
When we heard that Joe Dante was going to be at the Music Box Massacre 2, we jumped on eBay and punched in PIRANHA and came across a nice German still set that had this shot on one of the cards. Did I mention that I love eBay?
8-27-06 A SLIGHT FUNK
Sorry for the minimum update this week, folks. Been in kind of a funk as of late. With October just around the corner, we're trying like hell get our mood back up to where it should be. I'm sure the funk is coming mostly from my day job, and I seem to be bringing some of it home with me. So it's making it really difficult to get the stuff down around here, and on the site, that I really want to. But we're working on these 'technical difficulties' and hope to be back up to par in no time.
In the mean time, it is looking to be another great Halloween season this year. We have tons of great DVD titles coming out in the next month or so. And with the Cinema Wasteland show just a month away, an the Music Box Massacre 2 shortly there after, what more could any honest, hardworking horror fan want?
Speaking of plans, we are planning not only being at the Music Box Massacre again this year, but we will also be having a dealer table there. Not sure if we'll be awake back behind it, but we'll be there none the less. So we're looking forward to chatting with all you other like-minded fanatics out there. Make sure you stop by and say hello.
NEW REVIEWS
We have posted our review for CEMETERY GATES, starring Reggie Bannister, and Jaume Balagueró's FRAGILE.
MYSTERY PHOTO
We got quite a few more responses this time out for our mutant baby pic, from Larry Cohen's IT'S ALIVE. Hoby Abernathy, Aaron Christensen, Mike Dudley, Kevin Hart, Rich Hayden, and Stephen Weakley all sent in correct answers. Well done, people. Well done.
This time out, we're going with something a little more nostalgic. Hopefully everyone knows this one....or at least who is in the photo....
8-24-06 MUSIC BOX MASSACRE 2 - UPDATE
A new guest has been added to the Massacre festivities. John D. Hancock, director of LET'S SCARE JESSICA TO DEATH, will be appearing at the Massacre this year. If you have not seen this great film, then now is your chance to, along with meeting the director. Plus, director Joe Dante will also be there (schedule permitting), as well as costume contests, live music, short films, vintage movie trailers, dealer tables, and much more.
Here is the final lineup, but keep in mind that all is subject to change.
The Cabinet of Dr. Caligari (dir. Robert Weine) (71 mins.) 1919
Bride of Frankenstein (James Whale) (75 mins.) 1935
It Came From Outer Space (in 3-D) (Jack Arnold) (81 min.) 1953
Masque of the Red Death (Roger Corman) (86 mins.) 1964
Pirahna (Joe Dante) (90 mins.)
Homecoming (Joe Dante) (60 mins.) 2005
Let's Scare Jessica To Death (John Hancock) (89 mins.) 1971
The Thing (John Carpenter) (109 mins.) 1982
Deep Red (Dario Argento) (98 mins.) 1975
Night of the Creeps (Fred Dekker) (88 mins.) 1986
Zombie (Lucio Fulci) 1979
Friday the 13th Part 2 (Steve Miner) (89 mins.) 1981
An American Werewolf in London (97 mins.) 1981
Plus, they will be having the North American premiere of the 15-minute short film THE EYES OF EDWARD JAMES. This is the directorial debut of Rue Morgue magazine publisher, Rodrigo Gudiño.
Tickets are $24 advanced, or $29 at the door. You can get tickets at the theatre box office, or from www.ticketweb.com. Click HERE for the Music Box Theatre website.
We had a great time there last year, and plan on doing it again this year. If you're in the Chicago area, you don't want to miss out on this.
8-20-06 HAMMERSHOP NOW OPEN
The official Hammer Films website has now opened up it's on-line store, featuring T-shirts and DVDs. Unfortunately, for us folks in the States, the shipping will cost you a bit. But it' really works to about $20 a shirt, which isn't bad. But besides, some of their selections are awesome, like this Frankenstein one pictured here. I love the tag line on the back. Very cool.
So click on over to HERE to check out the HammerShop and see what else they offer.
GENE SISKEL FILM CENTER GIVES SCI-FI SALUTE!
Okay, so why are we mentioning it here? Because I don't care what they're calling it, some of the titles listed in this series are horror movies. Argue all you want, but ALIEN is a horror movie. Sure it's a sci-fi setting, but when you have a monster on the loose stalking and killing people, that sure sounds like horror to me. Wait...are we talking about ALIEN or GODZILLA....Oh well, no matter....But they are showing films like ALIEN, the original GODZILLA, the original INVASION OF THE BODY SNATCHERS, Cronenberg's THE FLY, and many others.
On the Tuesday screenings, there will be lectures from Jim Trainor, Associate Professor of Animation in the SAIC Department of Film, Video and New Media and director of such award-winning short films as THE MOSCHOPS and THE BATS.
For a complete list of what's playing click HERE.
MYSTERY PHOTO
Once again, the usual suspects are the ones with the correct answers on last week's photo. It was from the unusual film KILLER TONGUE, starring Mindy Clarke, Doug Bradley and Robert Englund. How's that for a cast? Congrats to Will Wilson, Hoby Abernathy, and Kevin Hart. Come on people, let's give these guys some competition.
The new photos has been posted, and hopefully is a little less obscure. Good luck.
8-16-06 THE RETURN OF THE MUSIC BOX MASSACRE!

Last October, we went to our first 24-hour horror movie marathon....(see our report HERE). While we didn't last the full 24 hours...close though, we had a blast. Well, this October, Rusty Nails and Movieside Film Festival are back once again to bring us another Music Box Massacre! This awesome event will take place starting at noon on October 14th, and will last a full 24 hours of horror movies and fun. What more could a horror fan ask for? How about special guest Joe Dante? Mr. Dante, director of such films as PIRANHA and THE HOWLING and many others, will be appearing there, scheduling permitting.
Tickets are $29 at the door, or you can get a pre-sale price of $24 at either the TicketWeb or at the Music Box Theatre box office. Even for $29, to see all those great movies on the big screen is worth every penny!
Here is the lineup so far. Keep in mind, these are subject to change.
THE CABINET OF DR. CALIGARI - 1919
THE BRIDE OF FRANKENSTEIN - 1935
IT CAME FROM OUTER SPACE - in 3-D - 1953
MASQUE OF THE RED DEATH - 1964
HOMECOMING (Joe Dante's Masters of Horror episode) - 2005
THE THING - 1982
LET'S SCARE JESSICA TO DEATH - 1971
DEEP RED - 1975
NIGHT OF THE CREEPS - 1986
ZOMBIE - 1979
FRIDAY THE 13TH PART 2 - 1981
8-13-06 HAPPY BIRTHDAY ALFRED HITCHCOCK!
We'd like to spend a quick moment to wish Sir Hitchcock a Happy Birthday. Time to break out one of those many classics and enjoy once again.
HORRORHOUND WINNERS
Contrats to our lucky winners in our latest contest. Those winners would be Hoby Abernathy, Angela Podhradsky, and Kevin Hart. The correct answers were: 1 - Wolfman, 2 - BREAKFAST CLUB, and 3 - Garbage.
Thanks to all who sent in their answers. Maybe next time.
CINEMA WASTELAND

Now that the Flashback Weekend is over, we can now start to think about the upcoming Cinema Wasteland show. Can you believe this will be the 10th Cinema Wasteland show? Ken & Pam had their first show back in Sept. of 2000, doing them every fall. Then in 2004, they started doing 2 shows a year. Their first one in 2004, was the TEXAS CHAINSAW reunion show. And they've been having them twice a year since then. And we've been there every time, and every time having a blast.
Don't forget people, October is not that far off. So if you were planning on making your way out this year, you better not wait too late. It's only about 6 weeks away. And besides, with October right around the corner, we'll all be too busy getting ready for the Halloween season. So don't delay....make your plans NOW and we hope to see everyone there.
You can check out their site by clicking HERE or the graphic. But if you're a fan of TCM 2, and especially if you didn't make it to the TCM reunion the Wasteland had a while back, then come on out and help celebrate 20 years of TCM 2. All the major cast will be there to sign whatever you have.
And if you're a fan of the uber-low-budget gorefest STREET TRASH, then you can also celebrate the 20 year anniversary of that cult classic as well. There will be 4 members of the original cast there to help celebrate.
There are many more guests, like Kitten Natividad, Carl Gabriel Yorke from CANNIBAL HOLOCAUST and even Jason's Mom, Betsy Palmer, and from the original NIGHT OF THE LIVING DEAD, John Russo, Russ Streiner, and Kyra Schon. And many more. Of course, what would a Wasteland show be without Mr. Tom Sullivan.
MYSTERY PHOTO
Figured we might stump a few people on this last photo. This was the J-Horror before there really was a J-Horror. It's from the 1990 film HIRUKO: THE GOBLIN, by Shinya Tsukamoto. This was made between his two TETSUO films. Made way back before all these black haired/white faced Japanese ghosts started to appear all over the place.
Will Wilson and Aaron Christensen were the only two with the correct answers, though we did get many interesting guesses. Keep trying. This next photo is from a film that is almost as weird.
BOOK REVIEWS
We've finished reading a couple of new books and have posted our reviews for them. The first one is for Jim Harper's ITALIAN HORROR, published by Midnight Marquee. The second is Jamie Russell's BOOK OF THE DEAD: THE COMPLETE HISTORY OF ZOMBIE CINEMA. Check out Book Review section for the reviews.
PULSE SOUNDTRACK REVIEW
We have also added our review for the new score for the latest American remake of a Japanese horror film.
FEAR WERX
Earlier this year at the Monster Mania show, we met the creators of some really cool merchandise. They started out with little novelty items like the Zombie Outbreak Survival Kit and the Do-It-Yourself Exorcism Kit, and then have moved on to shirts. We picked up a couple of their cool ass workshirts with the "Uncle George's Zombie Extermination Services" logo on them. Very cool. A great tribute to the father of zombies, and a great little design as well. They have a bunch of cool designs, so check out their website HERE and buy something. Or look for them at the next convention.
CINEMA NOCTURNA & DARKER SIDE OF THE MOON RADIO
Mark you calendars for this Thursday. If you're at home and online, go on over to The Darker Side of the Moon radio program. Click on banner below to be taken to the site. In the past, they had guests like Coralina Cataldi Tassoni and Claudio Simonetti. This Thursday, they will feature the writer/director/ producer of the upcoming film SIN JIN SMYTH, Ethan Dettenmeir, Tony Moran, who played Michael Myers in the original HALLOWEEN, Babara Magnolfi, who was in Dario Argento's SUSPIRIA and Ruggero Deodato's CUT AND RUN, and then lastly, Mauizio Guarini, who was in some band named Goblin. Heard of them?
Anyway, the show is from 10pm to midnight, EST. Check it out. If we can remember ourselves, we'll be online for it as well.
FROM BEYOND THE GRAVE TO DVD!
Another FINALLY DVD release news items. On November 14th, Retromedia and Image Entertainment will be releasing the Amicus anthology film FROM BEYOND THE GRAVE. Like all of their anthology films, this one has an all-star cast: Pete Cushing, Ian Bannon, Donald Pleasence, Ian Ogilvy, and Lesley-Ann Down. The film was bases on stories from author R. Chetwynd-Hayes. While they don't have the usual twist ending that Amicus anthologies usually had, this one is still a classic. Nice to see it getting a release here.
Though, the release is showing a 1.85:1 transfer, but if I remember correctly, I thought the laserdisc release of this was in 2.35:1, but I may be wrong.
8-10-06 HORRORHOUND CONTEST
The fine folks at HorrorHound have given us a few extra copies of their awesome magazine to do as we see fit. So I smell a little trivia contest coming on. Haven't had one of those in a while, so here we go. The first 3 people to send in correct answers for all 3 questions, wins a free copy of the latest issue, which features TEXAS CHAINSAW MASSACRE 2. If you haven't already checked out this magazine, and you are a collector, then you need to. And even if you're not a collector, but just a fan, this is also a great magazine so you can at least see all the cool stuff that is coming out, or the old collectibles from days past.
So check out our Trivia Page for the questions and details.
PATRICK ALLEN - REST IN PEACE
While most horror fans might not have known Patrick Allen, if you're a fan of British horror, then you might remember him. He starred in NIGHT CREATURES (aka Captain Clegg) and NEVER TAKE CANDY FROM A STRANGER for Hammer, but was also in NIGHT OF THE BIG HEAT.
He passed away on July 28th. Our thoughts and wishes go out to his friends and family.
PULSE VS SLITHER
I'm sure this is purely coincidental, but is it just me or do the artwork for these two look a tad bit similar? I guess that shows how imagination and creativity is still running rampant in Hollywood. Well....at least they did use a different color scheme....
8-6-06 FLASHBACK REPORT
It's taken us a lot longer to get this finished we thought it would. But it's done and posted. Check it out by clicking HERE and enjoy.
Now we have plenty of time to rest up and get ready for the Cinema Wasteland show, which is less than 2 months away!!!!
DARK WATERS SPECIAL EDITION DVD
Now this is what a Special Edition is all about. First of all, it's about time that this movie got the royal treatment that it deserves. When this first came out, we had high hopes for Baino, but he seemed to have disappeared. Plus, now we get the chance to see some of his earlier short films, especially CARUNCULA. Here's a breakdown of what is on this special 2-disc edition that is coming out on Sept. 26th from NoShame Films:

The first disc features an uncut letterboxed print, supervised by Baino. It also comes with audio commentary by Baino and producer Michele De Angelis. There is also an introduction by Baino, deleted scenes, silent blooper reel with commentary by Baino, photo and artwork gallery, and a featurette called DEEP INTO DARK WATERS, which has all new interviews with Baino, actress Louise Salter, camera operator Steve Brooke Smith, co-editor Rick Littler, and associate producer Nigel Dali.
The second disc contains Baino's short films DREAM CAR, CARUNCULA, and his more recent NEVER EVER AFTER. All will have audio commentary by Baino. There will also be a making-of featurette on NEVER EVER AFTER, and the screenplay.
But the coolest aspect of this special edition is the stone amulet replica, as well as the 48 page booklet that contains production and pre-production artwork, storyboards, reprinted script pages, and liner notes. Just check out the pic here and you'll know why you need this for your collection. So make sure you contact Xploited Cinema now and have them hold one for you. There's only 3000 being made, so don't wait.
The disc will have an SRP of $42.95, but you will also be able to get the first disc (including all the extras) for $19.95.
MYSTERY PHOTO
I was very happy to see this many people who got the last Mystery Photo. It was of course from PEEPING TOM. Figured that might be a little too cult for everyone. Good job, people. Nice to see some of you know you're history. Kudos to Hoby Abernathy, Kevin Hart, Mike Dudley, William Wilson, Stephen Weakley, and Mike Shields.
The new photo is posted, so take a look and get those brains working!
7-31-06 CONVENTION RECOVERY....
Sorry that we didn't have our usually Sunday/Monday update with the trivia, but as you know we were at the Flashback Weekend and we're kind of busy. Plus, when we got back last night, we were pretty much wiped out. Tried to get unpacked a little, but ended up falling asleep in front of the TV around 9pm....how sad is that?!?!?!
Anyway, we're starting to work on our report for the show. It doesn't look like we'll have that many photos this time, since I must have had the camera setting messed up. Most of the photos turned out too dark. But there's enough to give you a taste. But for now, enjoy some news and some ranting.
SAW NEWS
They've released the poster art for SAW 3, which seems to continue the style they've been doing so far. Though this is a slightly different image of the poster that they were passing out at the Flashback show this weekend. But in either case, it should make most people twinge a little bit.
But the big news that we just read was Lionsgate has announced a new special 2-disc edtion of SAW 2, that will be uncut. Seems they're out to screw their fans once again with this second release. Guess we should have known since they did the exact same thing for the first film. Check out our new Kryptic Rambling for more of our thoughts on this.
But....if you're interested, here's what is planned on the new 2-disc edition. It will have 2 different audio commentaries, which look different than what was on the first release. One will feature James Wan and Leigh Whannell, and the second will have SAW 2 director Darren Bousman, production designer David Hackl, and editior Kevin Grutert.
There is also a few featurettes: "Making of the SAW Story", "Making of SAW II", "Jigsaw", and "A Tribute to Gregg Hoffman". It will also feature director Bousman's short film ZOMBIES and some trailers. The SRP will be $26.98.
Thanks to Davis DVD for the info.
OTHER DVD NEWS

It seems that the fans of Richard Stanley are finally going to have something to drool over. The people over at Subversive Cinema are putting out DUST DEVIL: THE FINAL CUT, which will be a 5 disc set....yes, that was FIVE discs! Coming out on Sept. 26th, I can thank Subversive for giving Stanley the treatment that he has been deserving for years.
Over the 5 discs, you will get the 107 minute version of the film, with 5.1 & 2.0 Dolby Stereo sound that is taken from "a brand new hi-def 16x9 widescreen master that is flawless in every way." And then there is also a 114 minute reconstruction of DUST DEVIL work print. That is something I had never even heard of.
It will also include audio commentary by Stanley and Subversive Cinema's Norman Hill. It will have 2 different featurettes on the movie, and the trailer for the 16mm version of the film. There is also a new DUST DEVIL comic book by Phil Avelli. One of the discs will be the soundtrack by Simon Boswell, which is incredible.
The other discs include 3 documentaries that Stanley had made: VOICE OF THE MOON, which is about Afghanistan, THE WHITE DARKNESS, which is about Haitian Voodoo, and SECRET GLORY, which is about the search for the Grail and the Neo-Nazi movement. All have commentary by Stanley and Hill.
And here's the real bonus...the SRP is only $29.95! The only problem is that it is only limited to 10,000 units. So make sure you reserve your edition now to make sure you get one.
TCM 2 SPECIAL DVD SPECS & COVER
On September 26th, we will have the anticipated release of TEXAS CHAINSAW MASSACRE 2 special edition DVD. The disc will have a new high-definition widescreen transfer, audio commentary by actors Bill Moseley & Caroline Williams and makeup man Tom Savini. There is also a feature length documentary that will feature interviews with cast and crew members, covering a wide variety of subjects from the screenplay, art direction, casting, and much more. It will also feature never-before-seen on the set footage, as well as some deleted scenes.
No mention is made that this will be an uncut version, and with the mention of deleted scenes, it doesn't seem so. But none the less, it's great to see a movie like this getting the special treatment that it deserves. It's just a shame that we couldn't have gotten commentary by director Tobe Hooper. Oh well, I guess we just get spoiled with all these great editions that keep coming out.
And don't forget that same day, Dark Sky Films will be unleashing their 2-disc ultimate edition of the original TEXAS CHAINSAW MASSACRE. Seems they also have tons of new extras to go along with an all new cleaned up print.

BEYOND THE DOOR IS A DVD RELEASE!
Finally, Ovidio G. Assonnitis' EXORCIST....inspired BEYOND THE DOOR (aka THE DEVIL WITHIN HER aka CHI SEI?) will finally be hitting DVD next year, apparently in it's uncut version, which had never been available in the US, other than the bootleg market. It seems that Assonitis will be involved in the release, which may bring more of his films to DVD. Hopefully they can get some input from Juliet Mills and maybe even Richard Johnson (is he still alive?). We got our fingers crossed.
CALVAIRE TO OPEN IN NEW YORK
If you're in New York, then you have the chance to catch CALVAIRE (aka THE ORDEAL) at the Cinema Village Theater, since that is the only place it will be playing. It has been called an" unsettling male-anxiety fantasy, striking the right balance between grim sadism and grotesque comedy." and " A brilliant black comic nightmare."
Here is the poster art for it. If it does well, I'm sure that it will get a bigger release. If you want to check out the trailer, click HERE.
ARGENTO NEWS
We've recently read that Asia Argento will be starring in her fathers new film, THE MOTHER OF TEARS, which is the 3rd film in the Three Mothers Trilogy. The shooting is suppose to start in November. Now, we have nothing against Asia personally, but consider the three films that she starred in with her father were the worst of his career. We're are hoping that this will not be the case for this one, and are hoping for the best.
MYSTERY PHOTO
Only 2 correct emails for this week's Photo. It was from Antonio Margheriti's CANNIBAL APOCALYPSE. That's our buddy John Morghen (aka Giovanni Lombardo Radice) munching down on someone's arm. Contrats to Aaron Christensen and Kevin Hart for sending in the correct answers. We've posted a new one, so good luck. This might be another tough one for newer fans. Hopefully not. Good luck.
7-27-06 FLASHBACK TIME
While we are going to try our best, I don't think we'll be having our weekly trivia updated until maybe sometime Monday. It all depends on how tired we are after the Flashback show this weekend. As always hope to see a lot of people there, and stop by and say hi.
7-23-06 A TIME FOR MOURNING...

In the past we had posted some news about our local drive-in theater, the Hi-Lite Theater, was going to be torn down to make room for more housing. Even after a fight to keep in up and running, it was a fight that was never going to win since the politicians had made their decision from the beginning. Mike Kerz from the Flashback Weekend, made a valiant attempt to keep it going. But it just wasn't to be.
And in the front page of our local paper yesterday, is a large photo of the main theater building being torn down. It is a very sad day for nostalgic movie fans throughout the states, since we have lost yet another drive-in theater. The younger generation will probably never know the enjoyment of going to the drive-in was. I spent many weekends at the Hi-Lite theater, seeing some great classics.
But in this time of mourning, I can at least have the great memories of attending this place, and especially being there last year for the Flashback Horrorama that Mike put on. And at that event, my son was able to experience the joys of the all-night drive-in marathons that are pretty much a thing of the past. So, once again, thanks to Mike Kerz and company for giving us that last opportunity.
For the full story from the paper, click HERE. Photo credit: Heather Eidson, staff photographer for The Beacon News.
FLASHBACK WEEKEND IS NEXT....WEEKEND.
Not sure if we'll have another update before the show, so if not, I hope to see a lot of people there, and please stop by and say hello.
NEW REVIEW
We have a new review posted of the Japanese horror flick INFECTION. Check it out!
DVD NEWS
It looks as though this fall is going to be another great time for us horror fans. This October, Sony will release a DVD box set called Icons of Horror Collection: Boris Karloff. The collection will feature THE BLACK ROOM, THE MAN THEY COULD NOT HANG, BEFORE I HANG, and THE BOOGIE MAN WILL GET YOU. While these may not be any of the classic Karloff films, any film with him in it is worth watching.
Now this news made me giddy as a school girl. On September 26th, Universal Studios Home Video will release the full 3-hour version of FRANKENSTEIN: THE TRUE STORY. Yes, we know that this isn't really the TRUE story, mainly since it's a work of fiction to begin with. But none the less, we have very fond memories of being 9 years old and sitting down in front of the TV over 2 nights and watching this movie. Yes, it does have it's flaws. But we still love it. And besides, how can you not love James Mason in here as the demented Dr. Polodori? Or even Jane Seymour as the uber-bitch Prima? Not to mention the rest of the all-star cast.
This was released on video years ago in the edited 2 hour version. Every now and then the Sci-Fi channel would air the full version, but of course, that was with commercials as well. But now for the first time, the full version will be available.
Dark Sky Films continues to keep us horror fans happy. Not only are they re-releasing a special edition of THE DEVIL'S RAIN as we mentioned earlier, but they will also be releasing a very rare classic film: BLOOD OF THE VAMPIRE. This was often regarded as a Hammer Film, mainly since it's British, made in the late 50's, and starred Barbara Shelly. This was also a very hard film to come across. It was released on video ages ago, but even that tape was very tough to come across.
But now, not only will you have access to this classic, but it will probably look better than it ever has. And to make it even better, it will be on a double feature DVD, with the second feature being THE HELLFIRE CLUB. While this might be necessarily a horror movie, it was scripted by Hammer regular Jimmy Sangster (who also wrote BLOOD OF THE VAMPIRE), and has Peter Cushing in a small role. This release will be coming out on November 11th.
Thanks to DVD Drive-In for the news.
MYSTERY PHOTO
Last week's photo was from Hitchcock's FRENZY. I remember when I first watched that movie and being blown away on how brutal that particular scene was. Great movie. The special elite that sent in their answers were only Rick Lassiter, Aaron Christensen, and Kevin Hart. Looks like some people out there need to watch some more Hitchcock???
The new photo has been posted. Good luck.
XPLOITED CINEMA...NOT JUST FOR MOVIES
I'm sure everyone here has heard me speak highly of Xploited Cinema. They do offer tons of great import titles, and at great prices. But did you know that they also carry a wide variety of import soundtracks as well? We just got a nice batch of Italian scores from them and are in giallo heaven. If you are a fan of Mario Bava, then you need to check out these double disc CDs put out by Digitmovies. There's BAY OF BLOOD & BARON BLOOD. There's WHIP AND THE BODY & BLOOD AND BLACK LACE. And then there's Bava's earlier work, I VAMPIRI & CALTIKI. And then we also picked up the excellent score for NIGHTMARE CASTLE, by Ennio Morricone.
So if you love the foreign movie soundtracks like we do, then the next time your browsing through the Xploited website, make sure you check out their selection of soundtracks.
7-16-06 FLASHBACK GUEST CHANGES
Some good news and bad news on the guest front for the upcoming Flashback show. Unfortunately, for us fans that is, Bill Moseley and Lew Temple will not be able to make it to the show. They are both working on the same movie in Poland, with fellow REJECT start Leslie Easterbrook. Get this....Moseley and Easterbrook will be playing husband and wife, while Temple will be playing their son. How weird is that? But on the positive note, it means more work for these guys, so that's okay.
But to replace them, the Flashback crew have added another REJECT to the mix, Ken Foree. And they have also added Marilyn Chambers as well. She might be known for a few other films that she made, but horror fans might know her from David Cronenberg's RABID. She is making her first Flashback appearance.
This is looking to once again be a great time, so we hope to see you there. For the latest detail on the show, check out the site HERE.
HAMMER BOOK NEWS
Fans of Hammer will be happy to hear of some new books about the famous Studio. David Huckvale has released had his book on Hammer composer James Bernard published by McFarland & Co. Huckvale has been working on this biography, entitled James Bernard, Composer to Count Dracula, was written with the late Bernard's full co-operation.
And Ingrid Pitt is adding another title to her list of books that she's written. This one, entitled The Hammer Xperience, will be have many previously unpublished photos and untold stories about the studio and the people that worked there. It should be published at the end of next year.
The official Hammer web site seems to be running again, and has even had a couple of updates over the last month, which beats out it's past record. Maybe we'll finally start to see some more merchandise and even some more movies in production. I did say 'maybe'.
MYSTERY PHOTO & TRIVIA
We've updated our Mystery Photo again. The last one was from DIE MONSTER DIE, starring Boris Karloff and Nick Adams. Congrats to Kevin Hart, Aaron Christensen, and Stephen Weakley for getting the correct answer.
7-14-06 NIGHT WATCH CONTEST
Click on the banner below for a NIGHT WATCH contest to win cool prizes.
ADRIENNE BARBEAU BOOK SIGNING AND APPREANCE
For those in the western Chicago suburbs, tomorrow at the Hollywood Blvd. Theater, Adrienne Barbeau will be making an appearance there, for a book signing and Q&A. They will also be showing midnight screening of CREEPSHOW and SWAMP THING. For more details, click on the banner below.
MORE NASCHY DVD's COMING
If you picked up that German release of Naschy's HUNCHBACK OF THE MORGUE, then you know what a great DVD is suppose to look like. And now it seems that we'll be able to enjoy even more of Naschy's films in that same quality. As reported earlier, BCI will be releasing 9 different Spanish horror films, 6 of them being a Paul Naschy film. The first two titles are NIGHT OF THE WEREWOLF (aka THE CRAVING) and VENGEANCE OF THE ZOMBIES. Below are covers. If you want to see some screen shots, head on over to the ultimate Naschy website, The Mark of Naschy. Mirek, the man behind the Naschy site, has been helping quite a bit with these releases. So when he says they are going to be awesome, it's a great day for us Naschy fans. Plus, these films are suppose to be all uncut, some for the first time.
The other titles to come out are EXORCISM, HUMAN BEASTS, HORROR RISES FROM THE TOMB, BLUE EYES OF THE BROKEN DOLL (all Naschy titles). And then Amando de Ossorio's NIGHT OF THE SORCERERS & LORELEY'S GRASP (one that I'm REALLY excited about). And then Leon Klimovsky's DRACULA'S SAGA.
With all these films getting the same treatment, it really a great time for fans of these great Spanish horrors. And if you're not a fan, or not familiar with them, not is your chance to experience some great cinema.
NEW DESCENT POSTER
It looks like Lionsgate have come up with a poster for THE DESCENT with a little more originality than their last one.
And if you don't want to wait for the film to open on Aug. 4th, then head on over to Xploited Cinema and pick up one of the import releases of this great film. We recommend the 2-disc edition if their still in stock.
7-10-06 WEEKLY TRIVIA...A TAD LATE
Well, our plan was to get this out last night, but that just didn't happen. So here it is!
Of course, the last photo was from MOTEL HELL. And if you didn't know that....for shame! And even more credit if you knew that the head on the far left was none other than John Ratzenberger from CHEERS. The ones with the correct answers were Will Wilson, Mike Shields, Kevin Hart, Stephen Weakley, Kuhlcat, and Ryk Lassiter. This next one goes back a little ways, so Good Luck!
7-08-06 FLASHBACK UPDATE
Only a 3 more weeks to go before the Flashback Weekend. It's been way too long since our last show, as we are looking forward to having another great time there. As always, if you're coming out for the show, stop by our table and say hello.
The Flashback crew have made a few additions to their lineup. Leslie Easterbrook had to cancel due to a job opportunity. But taking her place will be another REJECTS star, Michael Berryman. Of course, Mr. Berryman has been in a couple of other genre films....just a few.
Also added to the lineup is Kane Hodder and Erin Brown (aka Misty Mundae).
For a complete guest lineup and more information, check out there website HERE. Hope to see you there!
NEW REVIEWS
We have posted our review of THE GARDEN, starring Lance Henriksen. We have also posted our review of the soundtrack for ABOMINABLE, which was done by the great Lalo Schifrin. Check out Review section.
100 YEARS OF HORROR
We noticed this little news bit on Davis DVD and were not only excited about this release, but were also surprised that nobody else seems to be mentioning it. Passport Video will be releasing this 5 disc box set of this amazing documentary, written and directed by Ted Newsom and hosted by Christopher Lee. This was originally released in a huge video box set, with each tape concentrating on one particular sub-genre, like vampire or mummy movies. These featured interviews and appearances with all kind of celebs from Boris Karloff to Peter Cushing, to Joe Dante to John Carpenter to even Hugh Hefner. Of course, they waited until I had went through all the trouble to transfer my video tapes of this series onto DVD, before they make this announcement. But none the less, come Sept. 5th, you are going to want to invest the $19.99 and pick up this collection. It's great viewing.
7-03-06 MEXICAN HORROR REVIEWS!
We have posted our reviews of the first two releases from CasaNegra Entertainment. If you love the black and white chillers from the 60's, that has more atmosphere than slasher movies have sequels, then you need to add these to your collection. But there's even more coming! The first two titles to come out are THE CURSE OF THE CRYING WOMAN and THE WITCH'S MIRROR. And then up next for their releases, CasaNegra will be putting out probably one of the most famous of the Mexican horror films, BRANIAC!. Along with that one, they will also be putting out THE BLACK PIT OF DR. M, which I don't believe has ever been released in a English language print or subtitles. Those are due out at the end of August. And then in October, they will be releasing a 2-disc special edition of THE VAMPIRE and it's sequel, THE VAMPIRE'S COFFIN.
This is what fans of these movies have been waiting for a very long time. And to see them come out in beautiful editions, with great care being given for each release, it's more than any Mexi-Horror fan could ask for.
TRIVIA & MYSTERY PHOTO
Looks like we've actually been able to get this update done today, though a little later in the day than expected. But none the less, here it is. We've posted some new trivia questions, as well as the new Mystery Photo.
The last photo was that of Lance Henriksen dueling it out with a Satanic 4x4 in NIGHTMARES. Nice job to William Wilson and Jeff. And now for the new one....
6-26-06 TRIVIA FROM THE KRYPT
We have updated our Mystery Photo section, and have added a few little questions to get your brain working. The answers for the questions are at the bottom of the Trivia page, below the Photo. This section is now under the Weekly Trivia link on the Navigational bar. Hope everyone can still find it okay.
And for those of you who knew the last photo, Job Well Done! The kudos goes to William Wilson, Rick Lassiter, Stephen Weakley, & Mike Shields. The photo was from THE EVIL, a great little haunted house movie. Check out this new one. It may be a little tougher. Good luck.
DVD NEWS - FANS OF CLASSIC HORROR REJOICE!!!!
Once again, this fall looks like it's going to be an expensive one for us horror fans. If you one that isn't too happy with all the new films coming out, then now is your chance to see some of the classic titles that will be hitting DVD finally.
First up, following their Lugosi collection, on September 19th, they will unleash The Boris Karloff Collection. This will be a 3-disc set that will include NIGHT KEY, TOWER OF LONDON, THE CLIMAX, THE STRANGE DOOR, and THE BLACK CASTLE. While these may not be some of the more well know films of Karloff, any of that man's films are worth the time.
Also coming out that day will be the Inner Sanctum Mysteries: The Complete Movie Collection. These 6 films were made back to back, under the moniker from the popular radio show. The 2 disc collection features CALLING IN DR. DEATH, WEIRD WOMAN, DEAD MAN'S EYES, THE FROZEN GHOST, STRANGE CONFESSION, and PILLOW OF DEATH.
Both sets will have full frame transfers and have an SPR of $29.98.
Warner Home Video continues the onslaught of classic horror will their 3-disc collection called Legends of Horror. Coming out on October 3rd, this set will feature THE DEVIL DOLL, DOCTOR X, THE RETURN OF DR. X, MAD LOVE, MARK OF THE VAMPIRE, and THE MASK OF FU MANCHU. All the films have been re-mastered, and with Dolby Digital mono tracks. DOCTOR X will be presented in it's Technicolor version. 5 of the films will even come with audio commentary by different film historians, such as Tom Weaver, Steve Haberman, Kim Newman, Steve Jones, and Greg Mank. The collection will also features trailers, and will have an SRP of $29.99.
Dark Sky Films continue to come up with some great titles to add to their releases. This Halloween, they will release a new special edition of Robert Fuest's THE DEVIL'S RAIN. If you never thought Ernest Borgnine could be scary, you need to check out this movie. With an all-star cast of Ida Lupino, William Shatner, Tom Skerritt, Eddie Albert, and Keenan Wynn, this is one great little gem. The disc will have an new transfer from original vault material. If it's like the other Dark Sky releases, we know it will look beautiful.
The disc will also feature audio commentary by director Fuest, and a newsreel on Anton LaVey, the creator of the Church of Satan, who just happened to be a consultant on the movie. There will also be still gallery, trailers, and radio spots.
6-20-06 HAVE YOU JOINED THE WATCH?
Hopefully everyone was out today picking up the DVD release of NIGHT WATCH, like I was. I must tell you that right now, Fox Searchlight is my favorite studio right now. And why is that? Because they have put out some very cool promo items to promote NIGHT WATCH, which we are giving away a huge prize pack. It comes with a t-shirt, a flashlight, some decals, ID badges (for both the Day Watch and the Night Watch side), and lots more cool stuff, like a map of the subway station that was seen in the movie.
All you have to do to get your chance to win this package is click HERE and send us an email telling us which "Watch" you're on. A lucky name will be drawn from all who enter.
A TRIVIAL PLAN OF ACTION
We are going to try something a little different starting next week. We are going to change around something with our Mystery Photo. First of all, our plan is to update it every weekend. But also, along with the photo, there will be some trivia question(s) on the page as well. This won't be part of any contest, since the answers will be at the bottom of the page. But what we will do is send out a email from our mailing list, that will let you know that the photo has been updated, and it will also give you the question(s)....but not the answer. To get the answer, or to make sure you're right if you think you know it, you will have to come to the website....pretty sneaky of us, huh? We'll give it a whirl this weekend and see how it goes. So make sure you're paying attention come Monday morning....
SPECIAL SCREENINGS
For the next two weekends, the Music Box Theatre in Chicago will be screening MOTEL HELL (bring your own jerky!). Check out their website HERE for more details.
And if you live a little bit farther north, in the land of cheese, the Orpheum Theatre will be screening David Cronenberg's SHIVERS (aka THEY CAME FROM WITHIN), on Friday June 30th at midnight, and on July 1st at 9pm. Check out their site HERE for more info.
6-17-06 FLASHBACK UPDATE
We've got a couple of updates for some upcoming shows that we wanted to update everyone on. In case you didn't realize it, this year's Flashback Weekend is approaching pretty fast. Just about a month and a half to go. So if you're planning on going, you better start making those plans.
As far as guest update, they have added Barbara Nedeljakova from HOSTEL. And joining her, will be the torture chair from the movie! You'll be able to have your picture taken sitting in the chair with her. This is her first convention appearance. And having the chair is one great idea.
Also joining the guest lineup is Andrew Bryniarski, Leatherface from the remake of TCM and the upcoming prequel. For the full guest lineup and more information, check out the website HERE.
CINEMA WASTELAND UPDATE
And if you want to start making plans for the fall, the Wasteland show looks like it's going to be another great time. Adding to the TEXAS CHAINSAW MASSACRE 2 reunion, the one and only Chop-Top himself, Bill Moseley. Of course, Mr. Moseley also made a couple of other movies with some guy named Zombie....Bill will be joining Bill Johnson, Caroline Williams, Tom Savini and Lou Perryman for the reunion.
And speaking of reunion, don't forget they are also having a STREET TRASH reunion, and many more.
For more info and the rest of the guest lineup, check out the site HERE.
ITALIAN MASTERS OF HORROR
Fangoria has reported a little while ago about this project, and now according to Variety is seems that it's going to happen. Luciano Martino's Dania Films will be co-producing a four film series, with each film directed by a different 'Master'. The directors are Umberto Lenzi, Lamberto Bava, Sergio Martino, and Nicola Rondonlino. And nothing against Rondolino, since I've never heard of him, but isn't that the point? I thought this was "Masters".
But in any case, we're hoping that they turn out great and are successful, enough to not only bring us more but also get the Italian horror film genre kicking again. We can all hope, can't we? The four films are scheduled to be made later this year, and to be released next year.
SPECIAL EDITION KING HITS DVD
Fans of Stephen King will be pleased to hear the details of two new special edition DVDs that are coming out this September.
The first one, THE DEAD ZONE, will be presented in widescreen with Dolby Digital 5.1 and 2.0 Surround soundtrack. It will also feature four featurettes, one on the history of the novel and film, one on the look of the film, one on how the 'visions' of Johnny Smith was created, and then lastly one on the political aspects of the character of Gregg Stillson.
These featurettes will feature new interviews with director David Cronenberg, actress Brooke Adams, cinematographer Mark Irvin, editor Ronald Sanders, and author Douglas E. Winter. There's no mention of any audio commentary, which is strange. Where's the director's commentary for this???
The second film is PET SEMETERY, which will also feature the same video and sound treatment as THE DEAD ZONE. As for the extras, this one will contain an audio commentary by director Mary Lambert. There will also be some featurettes that will cover the history of the book, including a King guided tour of the locations. There is also one on the cast of the movie, and the making of the film. They will have all new interviews with director Lambert, as well as actors Dale Midkiff and Brad Greenquist. But what about Miko Hughes????
In any case, we'll be looking forward to both of these releases, since they are some of the better King adaptations out there. It's nice to see them get the SE treatment.
NEW REVIEWS
We've posted our reviews for ROOM 6 and Amicus' THE BEAST MUST DIE. Check them out!
MYSTERY PHOTO
Sorry folks, that it's been so long since we've added a new photo. But here it is. Let's get those brains working!
Congrats to Hoby Abernathy, Aaron Christensen, Stephen Weakley, Mike Dudley, Kevin Hart, and Sharon and Vernon. They all correctly guess the shot was from the original 13 GHOSTS, from William Castle. They must have had those special glasses to figure that one out!
6-9-06 A BELATED APOCALYPSE
We really had planned on having this update done on Tuesday to mark the special occasion. But it was a toss up for us to decide if we wanted to go catch the remake of THE OMEN or just hang out at the maternity ward at the hospital and make people nervous. We opted for THE OMEN.
While we posted our thoughts on our Message Board, let me just say that it wasn't as bad as I thought, but it still lacked any sense of the power that the original did. The main reason that we enjoyed any of it was due to the supporting cast. If you haven't seen it, I wouldn't rush out. Wait for cable.
But I was amazed at how the packed theater felt that a scary movie was when things jumped out at you suddenly. It seems that if you have enough of those in your movie, you'll have a hit with the normal movie going audience. And I just think that is very, very sad. Sorry folks, but it takes more than a cheap & easy jump scare to have any lasting impact.
FLASHBACK GUEST UPDATE
The Flashback crew have added a few more guests to their lineup. Making her return to the Flashback is Adrienne Barbeau. Known for her roles in such horror classics as THE FOG, ESCAPE FROM NEW YORK, CREEPSHOW, and many others. She's a real sweetheart.
They have also added Mark Goddard, best known for his role in the LOST IN SPACE tv show.
I'm sure the Flashback crew have a few more surprises coming our way, so stay tuned. You can check out their website HERE.
NOX ARCANA's LATEST
We've added our review of the latest release from Nox Arcana, THE CARNIVAL OF LOST SOULS. Once again, they deliver a great score for those dark and moody nights.
AMICUS REVIEWS
We have also added a couple reviews for two great releases from Dark Sky Films. Amicus' ASYLUM and AND NOW THE SCREAMING STARTS. Check them out.
5-28-06 MONSTER MANIA REPORT
We finally got our report done and all the photos posted. Trust me, there was a lot of work involved. We took 10 rolls of film and had to narrow those choices down to a manageable number. But check it out enjoy.
CEMETERY MAN REVIEW
After many, many years, Michele Soavi's DELLAMORTE DELLMORE, under the silly American title, finally gets a DVD release. And was it worth waiting for? Check out our review to find out.
KRYPTIC T-SHIRTS
We did get our T-shirts made up with the new logo on them. If you would be interested in getting one, we are selling them for $15 each, with free postage. Or if you see us at a convention, they will be only $10, while they last.
MIDNIGHT SHOWS AT MUSIC BOX
For Chicagoland fans, the Music Box Theatre has announced is Summer lineup. While not as many genre pics playing at the Midnight screening as I'd hope (maybe their saving them up for the Fall season???), there are a few titles that may pique your interests. MOTEL HELL is playing June 23rd, 24th, 30th, & 31st. David Lynch's ERASERHEAD is playing July 7th, 8th, 14th, & 15th. Lynch's short films will be playing on July 21st & 22nd. On August 25th & 26th, you can see with Russ Meyer's FASTER PUSSY CAT! KILL! KILL! on one screen, or DEATH RACE 2000 on the other screen. Tough choice, if you ask me. I'm sure we'll be out there for one of those screenings.
5-25-06 MONSTER MANIA - DAMN TIRED!
We haven't been to a convention as a fan since the California Fango show in 2003. Usually we're always set up as dealers at these things. But this time out, with the HELLRAISER 2 reunion, we figured we just go as fans and have fun. But I tell you what, I came home more tired and worn out than I ever have from shows that I was actually working at! How sad is that?
But in any case, we had a great time. Seen plenty of old friends, and made a few more new ones. And we took PLENTY of photos. I'm still working my way through them to pick the ones to post on the site, but there's quite a few. So I'm hoping to get the official report up by the end of the week. So stay tuned!
TRIO OF TERROR'S BIRTHDAYS TOMORROW AND SATURDAY!
Let's not forget that tomorrow is Peter Cushing's birthday, and Vincent Price's and Christopher Lee's is on Saturday. So try and break out one of the many, many great films that these three gave us and let's not forget just how great they're films were.
NEW MUSIC REVIEW
While we're working on our Monster Mania report, some new movie reviews including the new release of CEMETERY MAN (aka DELLAMORTE DELLAMORE), we do have a couple of new reviews in our Soundtrack section. So if you want to hear our thoughts on the score for STAY ALIVE and a new dark score from Virgil, check them out.
SPECIAL EDITION DVDs HEADING OUR WAY
It seems that after 20 years, TEXAS CHAINSAW MASSACRE 2 will finally be getting the recognition that it deserves. According to Davis DVD, there is about a dozen cast and crew members are participating in the extras, including Bill Moseley, Caroline Williams, and Tom Savini. Do you think we could get an actually restored/uncut version of the film??? One can hope.
And speaking of TCM 2, don't forget this October, the Cinema Wasteland is having a TCM 2 reunion. Check out their website HERE for more details.
Other movies that might have special editions being released as well is CUJO, THE DEAD ZONE, and PET SEMETERY (all of which are in dire need of the SE treatment) could be out in September.
Its nice to see that this fall is going to be another great year for Horror DVD releases. Can't wait!
BRITISH HORROR FANS IN CALIFORNIA...LUCKY SOBs....
While we don't like to promote film fests outside of Illinois (only because we're bitter we can go), we felt that we had to mention this one. At the Egyptian Theatre, the American Cinematheque presents The Golden Age of British Horror: 1955 to 1975, from June 8th to the 25th. Here are some of the titles that they will be screening:
REVENGE OF FRANKENSTEIN, FRANKENSTEIN MUST BE DESTROYED, HORROR OF DRACULA, TASTE THE BLOOD OF DRACULA, X THE UNKNOWN, THE CRAWLING EYE, CURSE OF THE DEMON, BURN WITCH BURN, and many more. Lucky SOB's.
Check out the official website HERE for more details.
AMERICAN DESCENT POSTER
Here's the new poster for the American release of Neil Marshall's excellent film THE DESCENT. I got to say that I am not too impressed with this one. I think it looks damn cheezy when it comes down to it. The film doesn't need this type of artwork to sell the movie. This makes it look more like some cheap straight-to-video movie found at the local video store. The movie is much better than that.
But why wait to see the movie when you can pick up one of those great import DVDs (from our buddies at Xploited Cinema) right now. It's worth it, trust me.
HOUSE OF RE-ANIMATOR
I'm sure we've all heard the reports that it seems that there will be another entry in the RE-ANIMATOR series. And this time original director Stuart Gordon will be back. After that last entry, that was about the only way they were going to be me interested in the series.
But now it seems what some thought of as just a joke idea, it seems that it might just be panning out. William H. Macy (another favorite of ours) is set to star as the President of the US, but dies in office. Enter Mr. West and his wonderful glowing green fluid.
As much as I'd love to see this come to light, I'm really hoping that it remains the dark edge that the first one had, and not move into strictly into a political satire. In any case, we'll be waiting for for more news.
TCM LETS LOOSE A ZOMBIE!
Since the untimely death of American Movie Classics (yea, I know they're still around, but since they've been showing commercials, editing their movies, and just show just about any garbage on there, I don't think they should keep their name, and have since died in my little world....now back to our news), Turner Classic Movies has risen to the charge and continues to show great programming. And now this October, it seems that they will have a new show called TCM UNDERGROUND. This weekly late-night show will screen some of the great cult films out there, "from stylish horror movies to offbeat black comedies", according to TCM's Tom Karsch. Zombie will not only be introducing the movies, but also will selecting them as well. Already set for air is Romero's THE CRAZIES, Coppola's DEMENTIA 13, Castle's THE HONEYMOON MILLERS, Ed Wood's BRIDE OF THE MONSTER, and Seijun Suzuki's TOKYO DRIFTER.
And here's the part that crucial.....like all of TCM movies, they will be presented uninterrupted and commercial free. Did you hear that AMC? And are you still wondering where you're viewers went?
MASTERS OF SPAGHETTI HORROR
According to Variety, it seems that there might be a resurgence of the Italian Horror film industry. The film Commission of Turin in Italy is interested in making the Italian Masters of Horror series. Not a lot of details yet, but it seems that it will start out as a four movie series. One of the producers is Luciano Martino. Now his name might not be familiar, his brother Sergio might be. Sergio Martino gave us great films like ALL THE COLORS OF THE DARK, ISLAND OF THE FISHMEN, and many more.
We can only hope that if this series does well, maybe it will breath some new life into the Italian film industry, which back in the 60's, 70's and 80's, gave the horror genre some of it's best films.
Thanks to Fangoria & Michael Gingold for those last two news bites.
5-14-06 VAL GUEST - REST IN PEACE
It's another sad day for not only Hammer film fans, but genre fans in general. Director Val Guest was one of the men responsible for putting Hammer Studios on the map. He directed Hammer's film version of THE QUATERMASS EXPERIMENT, which went on to become a great success for Hammer. Which then lead to a quick sequel / follow-up, QUATERMASS 2. He directed several other genre pictures, including THE ABOMINABLE SNOWMAN, with Peter Cushign.
So it is with great sadness that we report that Mr. Guest passed away early this week. We were lucky enough to be able to meet Mr. Guest several years ago at a couple of Fanex conventions. He was a joy to talk to, even if it was only for a few moments. So if you're looking for something to re-watch maybe, how about breaking out one of those QUATERMASS movies and experience some great entertainment.
As always, our thoughts and wishes go out to his friends and family.
DRIVE-IN FIGHT CONTINUES
We would like to take a quick minute to thank everyone who dropped us an email about our last update, about the Drive-In. Many of you out there, even though not even living in Illinois, said they were mailing their letters in supporting keeping the Hi-Lite Drive-In theater open. We can't thank you enough for your support. Hopefully it will be worth it. If you haven't sent a letter in, please take the time and do it now. The information is below in our last update.
MONSTER MANIA NEXT WEEKEND!
I guess I could blame the lack of updates due to the fact that we've been digging through the Kryptic vaults, gathering together what we are taking to the Monster Mania show next weekend to get signed. As we said, this could be an expensive show. With all the different HELLRAISER items we have, it could get ugly. Hopefully there'll be an ATM close by.
Though, I am kind of irritated when I last looked at the guest lineup. Before, Ken Cranham, who played Dr. Channard, was on the guest list, along with the other Cenobites from HELLBOUND. But now it seems he is not on the list. It's a shame that some of these conventions will post big signs when a guest is added, but won't make any big mention, if any, when the guest is cancelled or taken of for whatever reason. Maybe I'm just a little bitter since I just had a still made up with the 5 Cenobites together. Could be.
But none the less, if you're planning on traveling out to the east coast for this show as well, we'll be wandering around, or waiting in line for autographs. We don't have a dealer table at this one, but maybe we'll see you out there.
For info about the show, click HERE.
KRYPTIC T-SHIRTS COMING
Now that we have an official Kryptic Logo, we are in the process of getting our own T-shirts printing up. If you would be interested in buying one, please drop us an email.
MYSTERY PHOTO
It seems quite a while since we've updated our Mystery Photo...only because it has been a while. The ones with the correct emails this time out were: Stephen Weakley, Kevin Hart, Victor Ives, Aaron Christensen, Eric Kuhl, and James Cornelius. The film was BUG....how can you go wrong with flaming cockroaches???
So check out the new photo and get them brains working! This one is an older one. Back to the glorious days of black and white movies.
CEMETERY MAN DVD
Finally hitting DVD after many announcements, Anchor Bay will finally be releasing DELLAMORTE DELLAMORE, under the stupid American title CEMETERY MAN. Why under that title, I have no clue. The only thing that I can think of would be some suit without a clue, wouldn't think a movie like DELLAMORTE DELLAMORE would sell with that title. Oh well. I guess we should be grateful that it is finally hitting DVD. We're hoping it will be worth the wait, and not be cropped like the original video release of CEMETERY MAN was.
It will be coming out on June 13th.
5-5-06 A NEW FIGHT
We moved to Aurora, Illinois back in 1975. At that time, downtown Aurora had 3 movie theaters, all within a block of each other. It was in these theaters that I was able to see JAWS, KING KONG, JASON AND THE ARGONAUTS, and other great films. And now, only one stands, the Paramount Theater, which is more of a stage theater than a movie theater. But one theater has has been around in the Aurora area for over 50 years is the Hi-Lite Drive-In Theater. Open since 1947, I can remember seeing quite a few flicks at this place. Such as some Bruce Lee marathons, EVIL DEAD 2, and many others.
Last September, the Flashback Weekend crew held their All-Night Horrorfest there and it was a blast. They were hoping to do it again this year. But now, like the other theaters in Aurora, it seems the fate of the Hi-Lite Drive-In Theater might go the way of the video tape. The drive-in is now owned by the City of Aurora and there are talk of putting up either condos or strip malls there. Alderman Stefanie Kifowit supports the plan to save the Drive-In and restore it. Aurora Mayor Tom Weisner is still listening to both sides of the issues.
So here's where we need the help. Below are the addresses of the Mayor's office, and Alderman Kifowit's. Please take a few minutes and send them a letter letting them know that you support to save the drive-in, and how important it is to keep this historical place open and running. And even if you don't live in the area, let them know that you came out to last year's Flashback Horrorfest held there and will do it again. But in either case, the more support we can get to keep this Drive-In open, and to keep this American tradition alive and well, then the better the chance that we'll still be able to show our kids what a Drive-In theater is, instead of telling them stories. Remember, this is the oldest Drive-In Theater in Illinois....let's work to keep it that way!
Mayor's Office
Attn: Mayor Tom Weisner
44 East Downer Place
Aurora, IL 60507
Aldermen's Office
Attn: Alderman Stefanie Kifowit
44 East Downer Place
Aurora, IL 60507
To see photos of the Hi-Lite 30 Drive-In, visit www.hilitedrivein.com.
5-3-06 THE FIGHT CONTINUES....
Still battling this little virus, but we think it is on it's last legs...or at least hope. In the meantime, we have a few things for you in the this latest update. First of all, as we mentioned in our last update, we are continuing to work on those changes, or I guess we should say improvements. We are working on some new ideas for the site that we are still fleshing out. In the meantime, we have updated our "About" page, which gives you a little background on us, as well as our goal and mission for this site. The link is to the right, under the Message Board link. As always, we welcome any feedback.
NEW REVIEWS
We have added our review for the recently released German DVD of Paul Naschy's HUNCHBACK OF THE MORGUE, which everyone should have in their collection....well, I think so. We also have our review of IT WAITS.
TWO NEW FAVORITE MAGAZINES
Up until recently, the only magazines that we read on a regular basis was Fangoria and Rue Morgue. Occasionally we might pick up a different title, but nothing on a regular basis. But we have subscribed to two different magazines that we've been enjoying quite a bit lately.
The first one is Dark Realms, that is put out by Monolith Graphics. For fans of gothic horror, this is right up your alley. But while we are not into the goth scene, we still find plenty of interesting stuff in here. One of my favorite sections is the music reviews. They feature different types of music, such as mood and atmospheric music, like Nox Arcana. Since these are not usually on huge labels, this is a great place to read about some of them. Plus, the puzzles that Dr. Arcana comes up with will drive you crazy. The magazine covers a wide variety of topics, from the standard movie reviews, but also articles on real haunted houses, or history lessons about such things as the tarot cards, or famous monsters, such as La Llorona. Check them out from the link below.
The other magazine is Horror Hound. They've recently released their 2nd issue and we loved it. As a collector, we love to see all the cool new toys...I mean collectables that are coming out. And this magazine has them all over the place. But it's not just about toys. There's articles on other types of merchandise, as well as covering some movie news as such. Throw in some interviews and you have some great reading. In their first issue, there was great article giving you 10 reasons you should own a multi-region DVD player. See...and you thought it was just me!
The best thing I like about this magazine is that it's great for reading when you only have a few minutes at a time. No long or lengthy articles, but nice and short little pieces. This make it so easy to tackle a little bit at a time, and not having to remember where you left off. Check out their site at the banner below.
FANTASTIC FILMS WEEKEND
For our readers across the pond, coming up on June 16-18, the National Museum of Photography, Film & Television will be be holding their 5th annual Fantastic Films Weekend. Guests for this show will be WICKER MAN director Robin Hardy, and Robert Fuest, who gave us the Dr. Phibes movies (among others). They will be screening such movies as the original GODZILLA, THE HOUSE THAT DRIPPED BLOOD, HORROR EXPRESS, SALEM'S LOT (Tobe Hooper's TV mini-series), STRIP NUDE FOR YOUR KILLER, and more.
They will also have a screening of THE WICKER MAN. Director Robin Hardy will on hand, promoting his new book, Cowboys for Christ, which is in the same vein as THE WICKER MAN.
For more information, check out the website HERE.
4-29-06 A WELCOME RETURN....TO SOME CHANGES
Sorry for the delay in updates, but once again we have been sick and basically just feeling like crap. But now that we are (hopefully) back on the mend, we're hoping to get back into the swing of things.
We're also hoping to make a few changes around here as well. The first one, as you might have noticed, is that we have recently acquired our brand new logo. We've been wanting to get an 'official' Krypt logo for quite a while, but just never got around to it. But now thanks to the wonderful work from Monolith Graphics, we now have one. So what do you think? So we'll be slowing switching out our new image with the old one we've been using (when we remember all the places we've pasted it) over the next few weeks. We'll be even getting our own T-shirts made up. We're talking big time here, folks! For more info about Monolith Graphics, just click on the link below.
So just what does the "Discover the Horror" in our new logo suppose to mean? Well, it's pretty simple. At face value, it means to discover this website, and the horror that lies within (especially when I'm working on it late at night). But the main meaning behind it is to discover the horror genre itself. There is such a vast and awesome history out there, waiting to be discovered by someone new. It doesn't matter how new of a fan you are, or how experienced you are, there is always more to learn and experience.
Don't forget, some of the very first movies made were horror, or at least made to frighten their audiences. And all these years later, it's still alive and kicking. But yet the horror genre is still never taken that seriously as a film genre. Go figure. So one of our goals to to help fans out there, both new and old, to learn and expand their love and knowledge of the genre. We're still working on few ideas on how to go about this, but we'll keep you posted.
REPULSION PLAYING AT SISKEL
Chicago area fans of Roman Polanski's REPULSION will have the chance to catch a newly restored print at the Gene Siskel Film Center in May. This intense psycho-thriller will be playing from May 26th through June 1st. We strongly suggest you check it out if you can.
Also playing at the Film Center is Jacques Tourneur's CAT PEOPLE. This is only playing on Saturday, May 6th at 5:15pm and Monday, May 8th, at 6pm.
NEW REVIEW
We have only 1 new review at the moment, but have a few on the horizon. Including the new German release of Paul Naschy's HUNCHBACK OF THE MORGUE and a new monster film from Anchor Bay, IT WAITS. But for now, check out our review for EVILS OF THE NIGHT. Talk about a strange film!
GIANT SPIDER ANNIVERSARY!!!
Fans of Bill Rebane will ecstatic to learn that there is a 30-year Anniversary Special Edition DVD near completion. It will feature interviews, and even an audio commentary from Rebane himself, as well as other features that haven't been announced as of yet.
Being a fan of this movie and Rebane himself, I know we are looking forward to this one. As soon as we hear more details about this release, we'll post them here.
OMEN NEWS
So have we all seen the teaser and trailer for THE OMEN latest remake from Hollywood? And? Since I think the original is about as flawless as you can get, I think it's going to be pretty tough to compete with it. And there is no way you can see a remake and not do that, unless of course you've never seen the original. And that....is just blasphemous.
But I have to say that I do like the new poster. They seemed to go with some mood and atmosphere rather than actor's faces and whatnot. Maybe they're learning??? Yea, right.
But another good point for the film is that everybody's favorite Italian actor who usually meets some pretty horrific fates in movies, has landed a role in the film. Giovanni Lombardo Radice (aka John Morghen) has probably died more violently and in more gruesome ways than anybody in cinematic history. And that's why we love him! So with his role in the new OMEN, and with another favorite actor of ours, Pete Postlethwait, at least there might be something good about it. Right?
ALIDA VALLI PASSES AWAY
Fans of Dario Argento's SUSPIRIA knows Alida Valli's face, if not her name. I can still remember the first time watching SUSPIRIA and seeing Valli as the wicked Miss Tanner, and thinking, "What a bitch!". Valli worked with Argento again in INFERNO, but had also worked with Mario Bava in LISA AND THE DEVIL, and was in Georges Franju's EYES WITHOUT A FACE.
We have always enjoyed her work, so we were sadden to hear of her passing on April 22nd. As always, our thoughts go out to her friends and family.
DARK SKIES AHEAD FOR AMICUS FANS!
For those out there who STILL haven't gotten an multi-region player yet, you will be happy to learn that Dark Sky Films will be releasing 3 films from Amicus Films that were only available on import DVD.
Amicus was known mainly for it's anthology films, and one of the better ones was ASYLUM. Made in 1974, it featured an all star cast with Peter Cushing, Britt Ekland, Herbert Lom, and Patrick Magee, and directed by Roy Ward Baker. The disc will have an audio commentary by Roy Ward Baker and cameraman Neil Binney, and feature a brand new Hi definition transfer from the 35mm negative.
Next up is AND NOW THE SCREAMING STARTS. This is another who's who of British horror stars. Let's see...you have Stephanie Beacham, Ian Ogilvy, Peter Cushing, Guy Rolfe, Herbert Lom, and Patrick Magee. Roy Ward Baker directed this one as well. Not a bad lineup, huh? Plus, for not being one of their usual anthologies, Amicus did a great job coming up with a good story and and a great cast. This release also will have audio commentary by director Baker, as well as Stephanie Beacham and Ian Ogilvy, moderated by Darren Gross.
And lastly there is THE BEAST MUST DIE. This one....has a great cast. Peter Cushing, Charles Grey, and Anton Differing. But to be honest, this is one of the tougher Amicus films to get through. But that's not to say that it isn't worth watching or having in the collection. I know I have it. But this release will feature audio commentary by director Paul Annett, and a tribute by Annett to Peter Cushing.
4-15-06 NEW REVIEWS
We have a couple new reviews posted. The first one is for Neil Marshall's THE DESCENT, which we couldn't recommend enough. This is one of the best horror movies that we've seen in some time.
We also have posted our review for Dark Sky Films two drive-in double feature discs. One disc features INVASION OF THE NEPTUNE MEN and PRINCE OF SPACE, and the other disc features CREATION OF THE HUMANOIDS and WAR BETWEEN THE PLANETS.
NASCHY'S HUNCHBACK SPECIAL EDITION DVD
Okay, once again we are going to give you yet another reason to own a region-free player. If you are a fan of Paul Naschy, we've been lucky enough to get a few of his movies to be released over here in the states. But early next month, there will be a Region 2 PAL release of HUNCHBACK OF THE MORGUE that is a must for Naschy fans. Not only will you be getting an re-mastered, color-corrected anamorphic widescreen print, that looks beautiful, but you will also get the following:
English, German, and Spanish audio options

Optional German subtitles

Audio commentary with Paul Naschy, in German, but with English subtitles

Introduction by Paul Naschy, in German

German Super 8 version

Paul Naschy as visitor at Buio Omega Festival in Germany

30 Years After: Naschy & Family visit Feldkirch

Trailer, photo gallery, & extensive filmography

32-page booklet
Here are two screen shots that were provided by Mark of Naschy, the best Naschy website out there.
Now here's the kicker folks....it's limited edition DVD to only 3000. So that means that these are going to go fast. So if you are interested, I suggest you head on over to Xploited Cinema now and pre-order your own copy. They are priced at $42.00, but with these extras and presentation, it looks to be worth every penny. And if you haven't gotten a region free player yet, then this is the time.
SLITHER CONTEST WINNER
Congrats to Jeremy for winning our SLITHER contest. We had a lot of great movie titles sent in with your favorite slimy creatures. Such as NIGHT OF THE CREEPS, SHIVERS, FROGS, and many more. We'll be working up another contest/giveaway shortly.
THE CARNIVAL IS COMING SOON
We all know how creepy a carnival can be. Well just think how much more it can be with music from Nox Arcana. They will be releasing their 5th CD, CARNIVAL OF LOST SOULS very shortly. If it's anything like their past releases, they will once again create a nightmarish world of all things dark and creepy with their music. You can check out a couple of samples from the new CD at their website HERE. If you haven't heard any of their music, and like the atmospheric, dark and moody sounds, then I highly recommend you check them out. Their last release, TRANSYLVANIA, is still high in my playlist.
MYSTERY PHOTO
Our last photo was the wonderful Alice Krige from GHOST STORY. Too bad she was really the only good part of the movie. None the less, job well done for John Pinkerton, Rick Lassiter, Victor Ives, Kevin Hart, Aaron Christensen, and Stephen Weakley. Now take a gander at our latest pic and see how good you are.
MASTERS BOX SET
Well, it seems that Anchor UK has announced that it will be releasing a box set of the Masters of Horror series. This is what was posted on their announcement section on their forum:
"We've analyzed fan feedback over the last month on and off the forums and have decided on a different release strategy for the MoH Franchise. We will be commencing work on a box set for the entire series which will come out sometime in the Autumn, full details to be announced.
As a result of this, the doubles will no longer be released as previously planned. We apologize for any inconvenience and disappointment this may cause but we feel it is the best way forward for the series and the best way to give you, the fans, the best possible package and value for money. Full details of the box set will be revealed once they are finalized."
Now they also say that this is just for the UK, and that the US releases remain unchanged. Right. So someone please tell me why they would release a box set in the UK, but not over here? Why doesn't Anchor Bay just announce what they're already planning to do? Do they need to make that much more money of their loyal fans?
NIGHT WATCH DVD NEWS
Fox Searchlight will be releasing Timur Bekmambetov's NIGHT WATCH on DVD on June 20th. And the real pleasant surprise is that it will be a dual sided disc, one side having the English version and the other with the Russian version of the film. Now that is what I like to hear. That somebody is willing to let audiences see the way the filmmaker originally released it. The release will also feature 2 commentary tracks, with optional English subtitles). One will be from the director, and the from novelist Sargei Lukianeko, who's work the movies are based on. That should be interesting to see what he thinks of the adaptations.
There will also be a extending ending, trailers, and a featurette on the making of the trilogy. Can't wait for this one.
4-06-06 WASTELAND REPORT
Yes, we have survived another trip to the land of O and made it through another Wasteland show. Over the last few shows, I've always had some sort of bill waiting to be paid once I got home. So I was always trying not to spend any money. But not this time. And I came home with some nice new additions to the collection, including some great reference books and import DVDs. Life is good. So check out our review in the usual place, or just click HERE.
But it's not too early to start making your plans for their October show. They are already planning on a TCM 2 reunion, with Caroline "Stretch" Williams, Bill "Leatherface" Johnson, Lou "L.G." Perryman, and makeup man Tom Savini. They are also having a mini reunion of the cult classic film STREET TRASH, with writer/producer Roy Frumkes, and actors James Lorinz, and Bill Chepil. And fans of Italian cannibals will be please to hear that Carl Gabriel Yorke, from CANNIBAL HOLOCAUST will be at the show as well.
I'm sure they have some other guests in the works, but none the less, we'll be there as always, and having a good time as well.
FLASHBACK WEEKEND
And speaking of shows, the Flashback has added a few more guests to their lineup. I don't think it's posted on the website yet, but it's on their flyers. Cerina Vincent, most known to horror fans from CABIN FEVER, will be there. Also will be everybody's favorite Child of the Corn, Courtney Gains. And then also Ezra Buzzington from the new HILLS HAVE EYES remake. Add those along with the DEVIL'S REJECTS cast and Roddy Piper, you have the making of another great Flashback show. Hope to see you there.
HAUNTED HOT SAUCE
I thought we had mentioned this on our site before, but I can't find any record of it. So I wanted to take a quick moment to give a little plug for a great product. Fans of horror and fans of hot sauce should check out Haunted Hot Sauce. Not only to they make some killer sauce, but the packaging is worth the price along. Last Christmas, we got a package of the Ghoul Drool and loved it. Plus, it comes in a cool little wooden coffin. They also have some other sauces and other fun stuff.
So if you're looking for a great gift for one of your horror friends, give them something to scream about....hot sauce!
MASTERS OF HORROR BOX SET???
I want to take a moment to do a little bitching. Yea, I know....that's a rarity, huh? Well, we all know that the first of the Masters of Horror DVDs have started to come out. I had no intention of buying them since I figured, knowing Anchor Bay, they would be putting out a box set once they are all out on their own. With probably some new extras of some sort. Wouldn't be unheard of for them, now would it. Now yes, AB has always said that there would be no box set, so you should buy the single discs now.
Well, a good friend of mine heard something at the recent Fango show that he recently shared with me. While we can't expose the 'source', but let's just say that someone behind the series said that there would be a box set coming out.
Now, take that for what it's worth. I'm sure AB could change there mind later and not do one, if the sales of these do poorly. But when I hear that one is already in the planning stages, and after they've stated there isn't, it does make you wonder why they keep deliberately trying to screw their fans over with these multiple releases. I guess that shows just how much they care about their bread and butter.
MEXI-HORROR FANS REJOICE!!!!

Many years ago, a good friend of mine named Monster Mark, suggested that I take a look into the Mexican horror movies of the 60's. At the time, I really didn't want to get into yet another sub-genre, and told him "No thanks". So he did what any self-respecting horror fans would do. He sent me a couple of the movies anyway. And those were THE BLOODY VAMPIRE and CURSE OF THE CRYING WOMAN. After watching both of them, I was hooked. Filled with beautiful black & white images, wonderful monsters and characters, and more atmosphere than you could stand. Awesome stuff.
Now finding good copies of these films were always tough. Sure you might find one at the local video store, or from the bootleg market, but the quality was always a bit rough. And even when some of them came out those un-official DVDs, the quality wasn't there.
But now, that is all about to change. CasaNegra Entertainment is about to release some of the best Mexican horror films from the 60's upon the world. First up will be THE WITCH'S MIRROR and CURSE OF THE CRYING WOMAN, which will be unleashed on June 27th. Each disc will feature the original uncut version, each with completely re-mastered picture and sound from newly restored vault elements. Plus there will be other extras like audio commentaries, essays, biographies, poster and still galleries, and much more. They also will be releasing BRAINIAC in August. Check out their website for all the details.
3-27-06 DAN CURTIS - REST IN PEACE

For me, growing up in the early 70's in a small town in Michigan, we didn't go to the theaters that much. Especially since the town I grew up in didn't even have a movie theater! So I was groomed on horror at an early age for that glorious invention...the television. And it seemed that if there was a made-for-TV horror movie on, there was a good bet that it was made by Dan Curtis.
Of course, he was known quite a bit for his creating the gothic soap opera Dark Shadows, which spawn the two feature films that he directed, HOUSE OF DARK SHADOWS and NIGHT OF DARK SHADOWS. But he also gave us some other great TV movies, such as THE NORLISS TAPES and the memorable TRILOGY OF TERROR. And then there's the pilots THE NIGHT STALKER and the NIGHT STRANGLER, which spawned the series KOLCHAK: THE NIGHT STALKER. And the list goes on with other features, both as director and / or producer....DRACULA with Jack Palance, BURNT OFFERINGS with Oliver Reed and Karen Black, DEAD OF NIGHT, SCREAM OF THE WOLF, and so on.
Curtis was diagnosed with a brain tumor four months ago, and died today at the age of 78.
Our thoughts and wishes go out to his friends and relatives.
UNDERWORLD 2 DVD SPECS
Sony Pictures Home Entertainment gave Fangoria the news about the release date and specs for UNDERWORLD: EVOLUTION, which will hit DVD on June 6th. The extras will include commentary by the director and filmmakers, and featurettes on the making-of, Visual FX's, the creatures, the stunts, designs, and music and sound design. And the SPR is a whopping $28.95. Pretty pricey for a DVD release this days, don't you think?
My only question is how long before they announce 2nd release, uncut and with more features, like they did with the first movie. Nothing pisses fans off more than when the studios pull that kind of crap. Lucky for me, I had never got around to picking up that first release of UNDERWORLD. But I know I'll be waiting for a while before picking up this first release.
3-25-06 SLITHER CONTEST

Once again folks, it's contest time!!! We had a great response from our last little game and hope everyone enjoyed participating in it, even if you didn't win. This time out, we have another little game, but not in the same trivial way. This time out, you won't have to remember any obscure and useless information. But you'll have to do something even harder....you'll have to THINK!
On March 31st, SLITHER will be making it's way on the big screen. We've heard nothing but good things about this, a lot from the people that got to see a sneak preview of it at the Fango show a couple of weeks ago. For those who don't know what the movie is about, let's just say it's about some alien slugs that are trying to take over this little community.
As we all know, putting slugs in a horror movie is a sure way to get people to shudder, shiver, and generally raise some goosebumps. But in the horror movie history out there, it's not just slugs that can do that, but all sorts of insects and other creepy crawlers.
So here's the contest. We need you to send us an email (CLICKING HERE) and tell us your favorite horror movie that the main monster / creature is a little, creepy, slimy, gooey, or whatever kind of critter is the main star. So weren't obviously not talking about Godzilla here folks. But the killer slugs, worms, insects, or whatever else had you grabbing the back of your neck to make sure something wasn't about to crawl down your shirt!
We are getting a SLITHER prize pack for the winner. We're not really sure what's in it, but we think it's a shirt, hat, and maybe some other goodies. So let's get busy people.
And don't forget to check out SLITHER when it hits the theaters on the 31st. For more information about the movie, check out the official site HERE. Definitely check out the Slug Hunting Season game on the site. It's a fun little time waster!
NEW REVIEW
We've posted our review of FRANKENSTEIN MEETS THE SPACE MONSTER. Check it out for some classic and fun stuff here.
CHICAGO FANGORIA REPORT
We've finally gotten our report finished up from the Chicago Fangoria show a couple weeks ago. As we mentioned before, our photos didn't turn out as well as they normally do. Mainly since the auditorium was just too big for our little camera. But none the less, you'll get an idea of what was going on, plus our usual spin on the events and happenings.
CINEMA WASTELAND....ONE WEEK AWAY
And speaking of show, only one more week until we head off to the land of O's for another great time at the Wasteland show. As always, I'm sure we'll be having a good time, seeing old friends, checking out some great movies until the wee hours of the morn, and even finding some more stuff to add to our little collection! Hope to see you there, and as always, make sure you stop by and say HELLO!!!!
DVD NEWS
Once again, here's another release that simply amazes me. And it's not really the title this time, but the 2-disc edition that is coming out for it. Lucio Fulci's MURDER ROCK will be coming out from Media Blasters on May 16. This isn't the greatest entry of Fulci's work, which amazes me about the extras. It's about a ballet and some murders that take place at the dance school.
The first disc will feature the film in 1.85 widescreen. It will also have audio commentary by cinematographer Giuseppe Pinori, and the original trailer.
The second disc will have a documentary on Fulci, called Tempus Fugit, which was directed by Daniel Gouyette. It features interviews with Dario Argento, Claudio Argento, Luigi Cozzi, Ray Lovelock, Dardano Sacchetti, Claudio Simonetti, Sergio Stivaletti, and Antonio Tentori. There will be a portraits on cinematographer Giuseppe Pinori and actor Ray Lovelock, as well as a featurette on Lovelock and MURDER ROCK. And a photo gallery rounds out the disc.
Once again, it just blows me away at some of the titles that are coming out and the star treatment they get. Just keep it coming!
CHICAGO HORROR FILM FESTIVAL
We are hesitant about mention this. And the reason for that is that we ventured into the city a few years ago to this festival. We were looking forward to seeing some hopefully interesting and entertaining low budget horror. But what we seen was basically just crap. Poorly made, poorly acted, and really just a waste of our time. I think most of the people there for the festival were ones that had movies playing in it.
So....as we said, that was a few years ago. Maybe by this time, things have progress a little and the quality has gotten better. So we might be heading out there again this year and see for ourselves. But in either case, if you live in the Chicago area and want to check it out, here is the official WEBSITE. And if you do go, and it hasn't changed, don't say we didn't warn you!
3-19-06 DESCENT ENDING CUT....PART 2
Yesterday we got the import import edition of Neil Marshall's DESCENT. As in the news below, when we heard the ending was going to be cut, we would rather have the original ending that the director planned. So we quickly got our copy from our buddies at Xploited Cinema and watched it last night. Great movie. Once again, Marshall has made a great entertaining movie. Plus, I think this is the first movie that involves spelunking (cave exploring) and it actually good!
But back to the news at hand. But first, a warning. This next paragraph doesn't give any content of the ending, but talks about the type of ending. If you don't want to know anything about the ending, just skip this update.
We mentioned it in our last update, when Lions Gate decided they was going to be cut. You can read below in our last update what Lions Gate's Peter Block told Fangoria (or go to their site to get the whole story). But below is two quotes taking from the audio commentary from this import DVD. The first quote was on the commentary with Marshall and the cast. The second is from the commentary with Marshall and the crew. To me, it seems to contradict what Block was saying.
#1 Commentary - "Some people find the ending really really unsatisfactory. Most people seemed to like the fact that we had the guts to do a downbeat, ambiguous ending. And what was great about it was it was in the script from the beginning. And I wanted to do a downbeat ending. So I never had a problem with that."

#2 Commentary - "I love the ending. I think the ending poses a lot of questions. Some people are going to dislike it. What can you do? Some people want things easily resolved. But I like the fact that people walk away from it with very different ideas about what it means."
3-18-06 MORE REVIEWS
We have 3 more reviews posted. Hit our Review section to see what we thought of THE HORROR AT PARTY BEACH, MAGIC, and Dario Argento's latest, DO YOU LIKE HITCHCOCK?
CONTEST WINNERS
Thanks to everyone who sent in their entries for out Trivia game this time out. The responses are getting bigger and bigger. The lucky winners were Mike (MAGIC DVD), Eric Kuhl (HILLS HAVE EYES Prize Pack), and Gregory Avery (Del Tenny Double Feature DVD).
We'd like to thank Dark Sky Films for helping us out with these DVD titles, and Fox Searchlight for the HLLS promot items. And also, in one last plug, don't forget to catch the HILLS HAVE EYES remake that is playing in theaters now. We've seen it and it's definitely worth checking out. Plus, check out the website for a pretty cool and scary HILLS game. It's pretty simple, but fun to kill a few minutes.
WICKERMAN....THE MUSICAL?
With the remake of the cult film THE WICKER MAN coming out this year, it seems that original director Robin Hardy, wants to see a musical version of the film hit the stage. According to the Scotland on Sunday, Hardy told them, "I have been approached by two separate theatre companies and I am certainly for doing an adaptation as a musical. Two very different companies have approached me."
He also goes on to say that he's not too excited about the remaking either, especially since the leading character in the remake is female. Hardy says, "I struggle to engage with the Hollywood remake coming out later this year, although I haven't seen the film or the script. As a director and writer [Neil] LaBute is very good and I enjoy Nicholas Cage as an actor, but I do not want any involvement in it."
For the full story, click HERE.
NEW WOLFMAN?
Speaking of remakes, this one seemed to come out of nowhere. There's been news of a remake of CREATURE FROM THE BLACK LAGOON that has been floating around for years, but now seems as if it's going to happen. So why was I so surprised to hear that Universal is going to be remaking the 1941 film THE WOLF MAN, with Oscar winning actor Benicio Del Toro in the lead role.
I've always enjoyed Del Toro, especially in FEAR AND LOATHING IN LAS VEGAS, so that's a good start. Hopefully they will get some talented behind behind the camera to make this a worthy attempt. Kevin Walker, known for writing SEVEN, is set to write the remake. Variety did state that it is to be set in Victorian England, with Del Toro's character returning from American to his ancestral home.
It'll be interesting to see where they go for the creature, either complete CGI, regular special makeup effects, or a combination of both. Plus, will he be a wolf-MAN, or a werewolf? So many questions. But since the film won't be hitting theaters until the summer of 2008, we have time to wait.
As for the CREATURE remake, Brian Steele has been signed to play the title character. Steele has been in tons of monster movies, as...monsters! From UNDERWORLD, DOOM, BLADE: TRINITY, and CREATURE, Steele has a lot of experience under his rubber belt. As always, we hope for the best, and expect the worse.
THE ORIGINAL GODZILLA HITS DVD!
As all Godzilla fans had hoped, it looks like the original and complete 98-minute Japanese version of Ishiro Honda's 1954 film GOJIRA (aka GODZILLA) will hitting DVD on Sept. 5. And even as a bonus, it will also contain the 78-minute US edition edition, GODZILLA, KING OF THE MONSTERS.
Both versions have been remastered in high-definition widescreen for the release. So far, no extras have been announced. But really folks, isn't this enough? Not to say that I wouldn't love a disc of extras as well, but let's just be happy that this icon of a movie is finally going to get an official release over here.
DESCENT ARRIVING CUT
The latest movie from DOG SOLDIERS director Neil Marshall has been getting a lot of hype on the internet as of late. Since it came out, it seems that nothing but praise has been said. Since we were big fans of his DOG SOLDIERS movie, we are pretty excited to see this new one.
But now Lions Gate has picked up the film for a US release, and have had the ending of the film cut. President of production, Peter Block, told Fangoria, "When Neil wrote the script for THE DESCENT, even he wasn't sure where he wanted to end the movie, because there are two very emotional beats [that close the film]. He [originally] ended it in a way that gives it an intellectual and downbeat approach, but he always wondered how it would play with an ending that had a different impact."

So with Marshall's agreement and involvement, the ending of the film was taken out. According to Block, he says that Marshall felt that people spent more time talking about the ending of the movie as opposed the movie as a whole. And by taking out that last shot, now the whole movie is left to discuss instead of just the specific ending.
Granted, the full ending will be on the DVD release in a 'extras' part, according to Lions Gate.
Okay folks, what do you think about this? It does make sense that the director was sort of behind the decision. But then I wonder why that decision wasn't made in the first place. Head on over to our Message Board and let us know your thoughts on the subject.
And if you're one of those people who are lucky enough to own a region free DVD player, and don't want to wait for the American DVD release, then head on over to Xploited Cinema and order the 2-dics special edition of DESCENT, like I did. We just got ours today and will be watching it this very evening. The extras include 2 different audio commentary, one with the director and cast and then the director with the crew. There is also a 45-minute making of featurette, extended scenes, outtakes, scenes & storyboard comparisons, still galleries, trailer and cast and crew bios. Not bad, huh?
3-12-06 NEW REVIEWS
We've been working on bunch of new reviews as of late, and still working on our convention report for last week's Fango show. But instead of waiting until their all done and then posting them, we'll be putting them up as we get them finished. With all this great stuff coming out, we've been keeping pretty busy. We were hoping to have more than just this one review done today, but we snuck out to catch the new HILLS HAVE EYES. If you've seen it, head on over to our Message Board and let us know what you thought.
But in the meantime, we do have a couple of new reviews. We have posted our review of 1/2 the Del Tenney double freature DVD that Dark Sky Films will be putting out at the end of the month. And that would be THE CURSE OF THE LIVING CORPSE. The review for the other feature, THE HORROR AT PARTY BEACH, should be done shortly. Since these are both great movies, we wanted to highlight each one of them, instead of lumping the reviews together.
We have also posted our review of La-La Land Record's release of the original score from GODZILLA VS KING KONG. Check that one out in our Soundtrack Review section.
MYSTERY PHOTO
And while we doing a little updating, we might as well get a new Mystery Photo up there, right? Try your eyes on this nice little peach of a photo....
The lucky....or should I say educated ones with the correct answers for our last photos were Terry Luster, Will Wilson, Hoby Abernathy, and Kevin Hart. And the shot was from the much underrated I, MADMAN. Just love that movie!
3-9-06 TRIVIA FROM THE KRYPT....AKA HOW DO I GET FREE STUFF
Well, while we're still working on some reviews and our convention report, here's something to hold you over. It seems that people keep wanting to send us free stuff to giveaway. So far be it from me to argue. So head on over to our Trivia page, and check out the latest.
This time out, we're giving away copies of the new releases from Dark Sky Films, MAGIC and the double feature THE HORROR AT PARTY BEACH / CURSE OF THE LIVING CORPSE. We are also giving away some fun promo items from the HILLS HAVE EYES film that opens tomorrow.
3-7-06 MAJOR UPDATE....COMING SOON!!!!
We have a lot on our plate coming up here folks. We got tons of reviews, some more giveaways, convention reports, and much more. So stay tuned.
FANGO IN THE WINDY CITY
This last weekend, Fangoria returned to Chicago, after something like 10 years. And was it worth it? Well, while we're still working on our official report, let's just say that we had a great time. There were a lot of people there in attendance, keeping us busy for most of the weekend. But that's not to say that we didn't experience the same old problems with Creation. Plus, most of our photos didn't turn out for some reason. I think the main reason was the auditorium was too big and I was too far away of the guests. But none the less, we should have our complete report up in the next few days.
HEADING TO THE WASTELAND NEXT
And now within a few weeks, we'll be heading off to the land of the Wasteland, Ohio to be exact, for our annual trip to the Cinema Wasteland show. While they've had some cancellations in their guest lineup (a first in their 6 years), they still have a great lineup. And then when you add the fact that it's just a damn fun show to begin with, how can you go wrong?
Check out their site HERE for more info about the show. And we hope to see you there!
NIGHT WATCH GIVEAWAY WINNERS
Congrats to AJ and Dan Smacher. They will be receiving some NIGHT WATCH goodies very soon. While the film still hasn't gotten the wide release that it should have, hopefully it's playing at a theater near you where you can catch it out. Trust me...it's worth it.
ANOTHER DARK SKY CONTEST ON THE HORIZON
Thanks to those wonderful people at Dark Sky Films, we have some more DVDs to give away. We have a copy of the awesome Anthony Hopkins movie MAGIC. This has always been a favorite of mine, where Hopkins should have gotten his Oscar years before we heard of someone named Hannibal. We also have a copy of the Del Tenney Double Feature DVD, featuring HORROR AT PARTY BEACH and CURSE OF THE LIVING CORPSE. I can remember watching PARTY BEACH as a kid some Saturday afternoon on some local creature feature program. What a great combination of the beach movies and monsters!
So....keep checking back here for details on the contest. We're not sure exactly what we'll be doing for the contest. So keep that gray matter in tuned.
2-26-06 DARREN McGAVIN - REST IN PEACE

Here at the Krypt, if we were to pick our favorite monster fighter, it would be Carl Kolchak, hands down. Maybe because we watched the original Night Stalker series in our young and informative years, or maybe simply because it was just that good. But in either case, if it wasn't for the man inside that blue suit, Darrin McGaving, we never would have had that pleasure. And now, with the passing of Mr. McGavin, would be the perfect time to break out one of those episodes of the original series and keep the memory of him alive.
But not just the horror genre has lost a icon. But there were so many movies that McGavin brought life to, including another holiday favorite of ours, A CHRISTMAS STORY.
The one thing that we can be thankful for is that the complete Night Stalker series had been released to DVD, giving him and his wonderful character, immortality.
And not to forget another passing, while not really known for his horror roles, is that of Don Knotts. I guess we could call THE GHOST AND MR. CHICKEN one of his contributions to the genre. But in any case, Knotts was in a class all by himself. And he will be missed as well.
Our thoughts go out to their friends and families.
CONVENTION NEWS AND UPDATES
Fangoria's return to Chicago is finally upon us. Next weekend, we will see if they can make a try once again to hold a decent convention in the Windy City. Since we're from the area, we're hopeful. We can always use more local shows! But I do have to admit that they really have pulled out a decent lineup for this show. Although, make sure you read through the guest lists carefully. Some of the guests are only there on one day. So if you're planning on only coming out for the one day, make sure you are going to be able to see who you want. We hope that it can draw the crowds in. So if you're going, as always, stop by our table and say hello! Check out the website HERE.
For fans of FRIDAY THE 13th, you just may want to head out to Cleveland in April for the Cinema Wasteland show. Appearing there will be a total of 5 Jasons: Ari Lehman (part 1), Steve Dash (part 2), Richard Brooker (part 3), C.J. Graham (part 6), and Kane Hodder (parts 7,8,9, & 10). And then of course, you have Jason's Mother there as well, Betsy Palmer! So if you were to have one of those recent books on the FRIDAY series, what a great opportunity to get a few signatures in there.
And of course, don't forget about the other guests, which include the victims from Rob Zombie's THE DEVIL'S REJECTS (Geoffrey Lewis, Priscilla Barnes, Lew Temple, and Kate Norby.
As well as Charles Band, Rudy Ray Moore, Lloyd Kaufman, Camille Keaton, Tom Sullivan, and a few more. Check out their website for the full details. We've been to the Wasteland shows since the beginning and are always a great time. Hope to see you there as well. Check out the website for more details HERE.
And fans of John Carptenter's THEY LIVE, will definitely want to make plans to come out to this year's Flashback Weekend. The man who likes to kick ass and chew bubble gum himself, Mr. Roddy Piper will be attending the show this year. They will also be screening THEY LIVE at the Drive-In during the show as well. Check out the website for more details HERE.
ALL NIGHT MOVIE MARATHON
A week after the Fango show, we just might be heading out to Delaware, Ohio, for an all-night horror movie marathon. Below are the films that they will be screening. For only $15, you'll have 13 hours of terror! For more information, you can call the Strand Theatre at 740-363-4914.
BLOOD FEAST
BLOOD DINER
JAWS
KINGDOM OF THE SPIDERS
STANLEY
MR. HEX (a Bowery Boys comedy/horror)
DVD NEWS
We've been a little preoccupied here as of late, so some of these titles maybe a little old. But they are ones that we're pretty excited about, so we want to mention them anyway.
In April, Media Blasters is going to release something that I never thought I'd see the day. And that is a 2-disc special edition of William Girdler's GRIZZY! Starring genre favorites Christopher George, Richard Jaeckel, and Andrew Prine in the JAWS-inspired tale of a very large grizzly bear on the loose. The film will be release, or unleashed as the case may be, on April 11th. It will be presented in a 1.85:1 anamorphic widescreen and even have audio commentary by the writer / producer David Sheldon and actress Joan McCall (WHERE IS ANDREW PRINE?!?!?!?!). There will also be interviews with others that were involved in the making of the film (but no details as of yet). Hopefully this second disc of extras is worth the 2nd disc. But really in any case, just to see this film getting the proper treatment is a wonderful thing.
But that 's not all, Girdler fans. Also in April, Media Blasters will also be releasing DAY OF THE ANIMALS as well. If you thought that Leslie Nielsen was a funny guy, then watch this movie. His performance is amazing. No word on any extras.
It's just sad that Girdler is not alive to see that his films have lived on.
And while on the subject of Girdler, Anchor Bay will be releasing THE MANITOU, starring Tony Curtis and Stella Stevens. This is the bizarre tale of an Indian demon that grows out of a woman's back! This will be a fully restored version of the film. No extras have been announced as of yet.
In other Anchor Bay news, they will also be releasing VISITING HOURS, that stars William Shatner, Lee Grant, and the one and only Michael Ironside. This film doesn't get the attention that it deserves.
And here's one that just the opposite....one getting the royal treatment....and why? BAD DREAMS! Of course, I haven't seen this since it first came out. So maybe it really needs a re-visiting to see if it's as bad as I remember. You would think with Richard Lynch in the role as the main bad guy, how could the film go wrong. I guess we'll have to wait for this new release, which will feature the original ending, to find out.
In the meantime, this release will feature a brand new transfer, audio commentary by the director Andrew Fleming, featurettes detailing the 'making of' and 'behind-the-scenes', trailers, original screenplay as a DVD-ROM extra.
Warner Bros. will be giving us a 2-disc special edition of POLTERGEIST sometime next year. No details on the extras yet. Maybe they'll have a featurette on really who directed the movie???
They will also be releasing some other great older titles that us classic fans will be exciting about. Titles such as MARK OF THE VAMPIRE, DOCTOR X, ATTACK OF THE 50-FT WOMAN, and for Karloff fans, we'll be getting FRANKENSTEIN 1970, MASK OF FU MANCHU, and THE WALKING DEAD.
And now Richard Stanley fans will now be able to see the full uncut version of his film DUST DEVIL, which was hacked to pieces when it video here in the states. Of course, if you have an import player, you probably already have it. But even if you do, you'll want to get this edition as well.
Set to be released in September, this edition will also contain 3 of Stanley's documentaries (THE WHITE DARKNESS, THE SECRET GLORY, and VOICE OF THE MOON), which will all have commentaries by Stanley. No real details on what extras from the film, other than some possible deleted scenes. Stay tuned for more details.
2-18-06 MORE REVIEWS!
We have 2 new movie reviews and 2 new soundtrack reviews now posted. Enjoy!
FLASHBACK UPDATE
The Flashback crew have recently added Roddy Piper to their lineup for their upcoming show. Probably best known in the horror genre for playing the lead in John Carpenter's THEY LIVE, but I'm sure he's got a few fans from HELL COMES TO FROGTOWN out there....somewhere. There will also be a screening of THEY LIVE at the Drive-In during the evening festivities at the show.
DVD NEWS
Fans of Paul Blaisdell will finally get to see 2 of his more rarer films finally hit DVD over here in the states. They were released on an import release last year or so, but now you'll be able to get them here. Following the success of the previous AIP double feature release of WAR OF THE COLOSSAL BEAST and EARTH VS THE SPIDER, on March 18th, you will be able to get THE SHE CREATURE and THE DAY THE WORLD ENDED on a single release.
And then Anchor Bay has set a date for the on again/off again release of Michele Soavi's DELLAMORTE DELLAMORE. Though they are apparently using the lame American title CEMETERY MAN, it is to be released on June 13th of this year. No details other than that has been release. I've heard rumors that there is to be some awesome extras, but we'll see what happens. I'm just hoping for a decent release, that is not cut, cropped, or messed with in any way. That's not much to ask, is it?
MYSTERY PHOTO
There's seems to be a lot of fans of those old giant monster movies out there. I think we got more responses from our last photo then ever before. The elite ones were Terry Luster, Joe Sanch, Eegore, Hoby Abernathy, Aaron Christensen, Kevin Hart, and Trevor Brooks. It was from the film BLACK SCORPION, which we just posted our review of...funny how that works, huh.
Anyway, the new photo has been posted. It's a little bit more current....little bit. Let's see what we can do this time.
2-15-06 JAWS CREATOR DIES
As I'm probably said before on this site, no other film effected me more than JAWS. While I did have a few nightmares after watching THE EXORCIST the first time, it didn't create a life long phobia that I developed after seeing JAWS.
So it is with sadness when we heard about the passing of the man responsible for creating this swimming nightmare, Peter Benchley. He passed away Sunday from idiopathic pulmonary fibrosis, at the age of 65. The whole idea for the novel came about after he read an article about a fisherman catching a 4,550 lb. great white shark off Long Island. After reading it, ''I thought to myself, `What would happen if one of those came around and wouldn't go away?'' And the rest was history.
DARK SKY FILMS CONTEST
Contrats to Jeff Howe and Kevin Hart. They were the lucky winners of our Dark Sky Films DVD giveaway. Thanks for everyone that entered for the contest. But don't forget, you will still be able to pick up THE LOSERS, DOG EAT DOG! and WEREWOLVES ON WHEELS on February 28th. Plus, keep an eye out for their other upcoming releases, MAGIC (April 25th), and THE HORROR OF PARTY BEACH / THE CURSE OF THE LIVING CORPSE double feature (March 25th).
NIGHT WATCH CONTEST
This Friday, the first installment to this epic Russian film, NIGHT WATCH, opens in theaters. Unfortunately, it doesn't look like it's getting a wide release though, since I can find any place locally around here where it's playing. But if you can find it playing, I strongly suggest you check it out.
In the meantime, we will be giving away some goodies from the movie. What exactly.....well, we're not really sure just yet. Might be a t-shirt...might be a mousepad....might be something else altogether. Once we find out, we'll let you know. And what do you need to win one of these items? Simple....just send us an email. Since this movies deals with vampires, shapeshifters, demons, and other supernatural beings, let us know one of your favorite movies that has one of those types of characters. Like werewovles, then how about AMERICAN WEREWOLF IN LONDON or THE HOWLING. Vampires? Then how about FRIGHT NIGHT or DRACULA. Yes, it's that simple.
Just click HERE and send us the email!
CHICAGO FANGO SHOW
Never thought I'd see the day that I would be this excited about a Fangoria show. But with the guest lineup that they have...especially for a Chicago Show. It's been years since they've been here, so it looks like they are really making the effort to do it right.
Recently added to their lineup is genre fave Alice Krige, most known to us horror fans from GHOST STORY. She'll be there promoting the new film SILENT HILL.
Of course, there's also George Romero, Stuart Gordon, Mick Garris, Aja Alexandra, Dee Snider, Gary Sherman, and plenty more. Check out their website HERE for a full listing. Hope to see you there.
MORE MIDNIGHT HORROR AT CHICAGO'S MUSIC BOX!
The Music Box Theatre in Chicago will be playing a couple of horror classics at their midnight shows in April. On March 31st, April 1st, and 7th & 8th, Stuart Gordon's RE-ANIMATOR will be showing. And then on April 28th & 29th, Wes Craven's A NIGHTMARE ON ELM STREET will be playing. They have other movies playing as well, but those were to be main genre titles. For more information, check out their website HERE.
2-11-06 GODZILLA COMPOSER AKIRA IFUKUBE DEAD AT 91
For fans of the the Big G, that familiar theme is always romping through our heads when thinking of those great movies. And Mr. Ifukube was the one responsible for that very memorable and very effective theme music.
La La Land Records had released the 50th Anniversary Edition soundtrack that featured Ifukube's score, and have also recently released his score for KING KONG VS GODZILLA. So grab your chance to own some of this man's music.
HABIT REVIEW
As you can tell from the above quote, filmmaker Larry Fessenden is our new favorite director of the month. Or minute, or however long it takes to get replaced in my cranium. But in the meantime, we have been impressed with his work in the horror genre thus far. Check out our review of his film HABIT and see what you think. Then seek it out for yourself, along with his other film WENDIGO. I think you'll be impressed with them, and him, as much as I am.
If you've seen HABIT, hop on over to our Message Board and let us know what you thought of it, of WENDIGO, of Fessenden, or anything that you want to.
ANDERSON NO LONGER CRAZY
According to Dread Central, it seems that the remake of George Romero's THE CRAZIES that was going to be helmed by Brad Anderson is no longer on the drawing board. Which is a shame since with the remake craze still going strong, I would have had high hopes for Anderson to tackle this remake.
But in some good news, it seems that Anderson will be involved in the 2nd season of the Masters of Horror series. So at least we got that going for us....which is nice.
2-10-06 MORE GUESTS FOR CHICAGO FANGO SHOW
Fangoria keeps adding guests to their lineup for their Chicago show. Besides George Romero, another legend that they have recently added is Stuart Gordon. Gordon will be there, along with frequent screenwriter Dennis Paoli, joining Mick Garris to promote the Masters of Horrors series.
They have also added newcomer director Alexandre Aja, director of HAUTE TENSION, who has recently finished the HILLS HAVE EYES remake.
Of course, Chicago fans will be tickled by them adding Henry himself, Michael Rooker will be there promoting his new movie, SLITHER, with the director and other cast members.
And then add Tom Savini, Dee Snider, Lloyd Kaufman, Gary Sherman, and many other guests, this looks to be a pretty decent likeup for them. Since it's the first time they've been back to Chicago in quite some time, hopefully this turns out good for them.
WEREWOLVES ON WHEELS REVIEW
We've posted our review of Dark Sky Films' upcoming release of the cult classic WEREWOLVES ON WHEELS. Plus, don't forget that we're still taking entries in our Dark Sky Films contest. See the below update for more info.
LON CHANEY JR's BIRTHDAY!
Poor old Chaney Jr. Probably one of the most underrated actors of the classic horror actors, who just never given more chances to prove just how good of an actor he was. We fondly remember him on his birthday today.
2-5-06 PS...AL LEWIS - REST IN PEACE
We forgot to mention in this in our earlier update, and wanted to make sure we did. While I was always more of an Addams Family fan than a Musters fan, we are sadden by the death of Mr. Lewis. But if I was able to live to be 95 years old and had 1/2 the life he seemed to have, I think I'd be doing pretty good.
Our thoughts and wishes go out to him and his family.
2-5-06 DARK SKY FILMS GIVEAWAY!
Thanks to the fine people at Dark Sky Films, we have 2 free DVDs to give away. We are giving away 1 copy each of the following titles:
THE LOSERS stars cult film bad guy William Smith as the leader of The Devil's Advocates, a red-knuckled, freewheeling, hellraising biker gang, who also just happen to work for the CIA when they have a job nobody else wants. With machine guns and motorcycles, they kick ass and have fun.
DOG EAT DOG! stars Jayne Mansfield and Cameron Mitchell in this trashy-hip tale of cat & mouse intrigue set on the intoxicating shores of the Mediterranean, where a band of thieves who stole $1 million from the U.S. Treasury has escape to. But when the money turns up missing, everyone is out for revenge.
For info on how to have you chance at winning one of those titles, click HERE. Don't worry, it's pretty easy.
And while on the subject of Dark Sky Films, on April 25th, they will be releasing one of my all time favorite Anthony Hopkins film, MAGIC. I have always been impressed with Hopkins' acting ability after seeing this movie, not to mention that it's a pretty damn good scary movie. Dark Sky Films will be putting this out with some very cool extras. There are interviews with star Anthony Hopkins, cinematographer Victor J. Kemper, a makeup test with Ann-Margret, a radio interview with Hopkins, trailers & TV spots, and photo gallery. But there is also a featurette called Fats & Friends, which features ventriloquist Dennis Alwood discussing the making of the film. He's the guy that did all the 'dummy work' for the dummy Fats. This gives a brief overview of the history of ventriloquism and the history of the film MAGIC. But the best part of this featurette, that is with Alwood for most of the featurette is Fats himself. Very cool.
SPANISH HORROR FANS REJOICE!!!
Over at the Naschy.com website, they have announced some great news for us fans of Paul Naschy, and Spanish horror fans in genre. BCI has finalized a deal to release 9 titles here in the states, 6 of them being Naschy titles:
NIGHT OF THE WEREWOLF (THE CRAVING)
EXORCISM
VENGEANCE OF THE ZOMBIES
HUMAN BEASTS
HORROR RISES FROM THE TOMB
BLUE EYES OF THE BROKEN DOLL
Along with those titles, they will also be releasing 2 titles from BLIND DEAD creator Amando de Ossorio, NIGHT OF THE SORCERERS and LORELEY'S GRASP (aka WHEN THE SCREAMING STOPS), and 1 title from Leon Klimovsky: DRACULA'S SAGA.
No real definite details on them yet, as far as release dates or extras, but stay tuned since we are very excited to see these titles hit DVD over here.
BIRTHDAYS
We tried to get this update done yesterday, but just didn't make it. But none the less, we want to give our birthday wishes to the Father of the Dead....George Romero! He turned 66 years old yesterday.
Also celebrating their big day yesterday was Pamela Franklin, from LEGEND OF HELL HOUSE, FOOD OF THE GODS, and many other great horror favs.
But today, we wish a birthday wish to the late John Carradine. Though he passed away close to 20 years ago, he's still remembered by us horror fans.
NEW REVIEW
We've posted our review of the recently released ALL SOULS DAY. Check it out. We also have a review coming up soon of the cult classic WEREWOLVES ON WHEELS. Stay tuned.
We've also changed around our Review Archives, hopefully making it a little easier to find an older review.
2-1-06 WELCOME TO FEBRUARY....
And what a fun month January was, wasn't it? I still think some of the bad vibes from '05 were still carrying over, so we're hoping this month really starts fresh!
I've been battling a nice cold that my son gave to me, which is why there hasn't been an update in a week or so. But it did give us a chance to watch quite a few movies...which we should have some reviews up for shortly.
And speaking of reviews, we have re-vamped our Review Archives to make it tad bit more easy to peruse through. At least we hope. We have also added in the banners that we use to have in the main review section back into the archived reviews. Figured we got the webspace...might as well use it, right?
MYSTERY PHOTO
Contrats to Rick Hayden and Jeff Howe for getting our last photo. That was William Katt battling the closet monster from HOUSE. This time out, we have an older classic. Hope we've all done our homework.
HELLRAISER FANS GOING TO HELL....RIGHT AFTER JERSEY.
If any HELLRAISER fans had not already made their plans to go to the Monster Mania show in May, they might have to now. They already had the four main Cenobites, Doug Bradley (Pinhead), Simon Bamford (Butterball), Nicholas Vince (Chatterer), and Barbie Wilde (Female Cenobite from HELLRAISER 2), star Ashley Laurence, and screenwriter Peter Atkins.
But now they have also added special effects guys Gary J. Tunnicliffe and Mike Regan who worked on the movies. And even better, they have added Doctor Channard himself, Ken Cranham.
Add all the other great guests they have listed, like genre legend Lance Henriksen, and some zombie director from Pittsburgh, named Romero or something, and you have one hell of a convention. We'll be there shelling out some serious cash for autographs this time out.
For more info about the show, go to their website HERE.
HAMMER RISES....I MEAN AMICUS RISES FROM THE GRAVE!
Sorry....got so used to posting announcements of Hammer Studios going back into production that when I heard this news of an Amicus revival, I guess I thought it was another flashback.
But it seems that Amicus Entertainment has been revived by producer Robert Katz, Amicus executive Julie Moldo and financier Jay Firestone. They already have 2 productions in the works, including a film by Stuart Gordon entitled STUCK. The story is based on a recent real life case where a woman hits someone with her car, and drives home with the victim still stuck in the windshield, leaving the car in the garage and not calling for help. Pretty twisted for a movie, even more twisted in real life. The film is to start production in the middle of this year.
The other film project is called CLOWN and is to be directed by Mark Jones. Jones gave us LEPRECHAUN, and now will give us a film about an evil clown and his dwarf sidekick. Well....they had me interested with that Gordon film anyway....
Katz also talks of maybe doing some 'homages to classic titles" that Amicus was known for, like TALES FROM THE CRYPT. At least it sounds more promising than anything coming from Hammer.
ANOTHER BIG G. SOUNDTRACK!
Those guys at La-La Land Records just keep doing things right. If you are a fan of Godzilla, you probably ate up their 50th Anniversary release of the original score for the original movie. And now, you can add another Godzilla classic to your collection....one that has never been released on CD in the states.
Composer Akira Ifukube score for KING KONG VS GODZILLA will start shipping from next Tuesday, Feb. 7th. If you act now and pre-order, you can get the GODZILLA: 50th ANNIVERSARY EDITION for only $9.98. Check out their website HERE for more details.
This release has been remastered from Toho Studios vault sources, and includes bonus tracks and exclusive liner notes. If you're familiar with La-La Lands work, then you know this will be another great edition to any fan of Godzilla, or film score fans in general.
UNCUT EVENT ON THE HORIZON?
Paramount Home Video sent Fangoria the cover art, which we promptly swiped from their website to post on ours. Love that technology. Anyway, Fango says that this 2-disc special edition will be coming out with tons of extras. The first disc is the movie, in widescreen, Dolby, Surround, and all the usual. There's also an audio commentary by director Anderson and producer Jeremy Bolt.
The second disc has a 5-part 'making-of' feature, some with director commentary. There is also the "The Unseen EVENT HORIZON feature with director commentary, that covers unfilmed scenes and conceptual artwork. Then there are more featurettes on the filming of the movie, once again with director commentary. And then we have deleted and extended scenes, original trailer and video trailer.
But here's my question: Is this the uncut print? I've read Fango's news bit a few times, but I couldn't find where it said it was the uncut print. Sure, there's some deleted stuff in the extras, but what about this longer version that we used to hear about? I remember likely some parts of the movie, but felt it was missing too much, which was apparently all the stuff that was cut out from the original release. So what gives?
1-21-06 ANTHONY FRANCIOSA: REST IN PEACE
Actor Anthony Franciosa passed away on Thursday, after suffering a massive stroke, according to his publicist. While he did have quite a movie career, most horror fans recognize him from Dario Argento's TENEBRE. So now would be a perfect time to break out that old Argento film and give it another whirl.
NEW REVIEWS
Believe it or not, we've already got another 2 reviews finished and posted. I guess we're really on a roll here, huh?
This time, we have reviews for CREEP, with Franke Potente, and the classic BEYOND THE DOOR (aka DEVIL WITHIN HER).
HENRY RETURNS TO CHICAGO
Michael Rooker came to the attention of horror fans with the release of John McNaughton's HENRY: PORTRAIT OF A SERIAL KILLER. This March, fans will now have the chance to meet up with Mr. Rooker at the Chicago Fangoria's Weekend of Horrors. He'll be there promoting his new movie SLITHER, but I have a feeling he'll be seeing more HENRY more than anything.
MASTERS OF HORROR
Some names of directors for the second season has been popping up lately. Mostly they're the same names from the first season. Landis, Gordon, Dante, Hooper, and Carpenter. But one of the newest names mentioned was Brad Anderson. Since we're a big fan of SESSION 9 and THE MACHINIST, we are looking forward to his involement with the series. Masters creator Mick Garris says that he's hoping to get Rob Zombie and Guillermo del Torro for the second season as well. We'd love to see that.
And while on the subject, it seems that Takashi Miike entry in the MASTERS series, IMPRINT, will not be showing up on Showtime. Apparently the execs at Showtime deemed it too graphic. It will be coming out on DVD from Anchor Bay later this year.
On the reason for it being pulled, Miike said, " To tell you the truth, I was not surprised to hear that IMPRINT would not air. Through the experience of directing this episode, I have discovered that while humor can have its limits, fear has no limits. I could not suppress the volume of terror that this film conveys."
While we have only seen 3 of the episodes so far, we've been impressed with what we have seen.
1-18-06 ALL SOULS DAY CONTEST WINNERS
The lucky winners are Hoby Abernathy and Rick Hayden. Thanks to all who sent in their entries. For those who didn't know, the film in question was FRIGHTMARE. Hopefully we can continue these contests every month, or at least that's our plan.
LIKE HOT SAUCE?
A friend of the Krypt gave us some hot sauce over the holiday. What does that have to do with horror? When it's from Haunted Hot Sauce! They come in some great packaging as well, which includes a nice little wooden coffin. Can't go wrong there, right?
KARLOFF FILM FEST
Times like this, I wish was a little closer to New York. The Film Forum in New York, NY, will be having a Boris Karloff Film Fest, featuring 14 of the Masters works. Not only the usual like FRANKENSTEIN, THE BRIDE OF FRANKENSTEIN, and OLD DARK HOUSE, but other faves like THE MASK OF FU MANCHU, THE BLACK CAT, THE BODY SNATCHER, CRIMINAL CODE, HANDS OF THE STRANGLER, and TARGETS.
Peter Bogdanovich will be there to introduce TARGETS, and Richard Gordon will be there to introduce HANDS OF THE STRANGLER.
Here's the Film Forum website, as well as the complete listing of the films here. All I got to say is you lucky SOB's.
1-14-06 HAPPY FRIDAY THE 13th...
Okay, so we're a day late on that one. But we did have every intention to have this update done yesterday, but like always, things came up. I guess the one good thing is that the main reason that has been keeping the updates few and far between is that I'm spending much more time watching movies. So that's at least a better excuse than I normally have.
Anyway, so here's our update. Some of these news bits might be slightly old, but the reason that I still put them up is to add my own personal thoughts on them. And just in case you didn't hear it from another website. So sit back and enjoy!
KRYPTIC CONTEST
As promised, though a little later than we planned, we have a new contest. We have 2 copies of ALL SOULS DAY to give away. This latest release from Anchor Bay Entertainment features genre star Jeffrey Combs along with Danny Trejo in this new zombie shocker. The film comes out next week. Check out our Trivia section to find out how you can win one a copy of this DVD. You're going to have to work for this one folks.
REVIEWS
We have added our reviews for THE EXORCISM OF EMILY ROSE and EFFECTS. Check them out!
MYSTERY PHOTO
We've updated our photo to give you even more things to test that brain. Our last photo was from the Amicus film TALES FROM THE CRYPT. Congrats to Terry Luster, Hoby Abernathy, Rick Hayden, and Aaron Christensen.
Check out our new one and see what you can do.
MASTERS OF HORROR DVD NEWS
For those of you that haven't been able to keep up with this new series, will be glad to know that it's coming to DVD, starting at the end of March from Anchor Bay. But here's the deal: the episodes are being release individually, with each one going for a retail price of $16.98. Yes, there are some extras, but this is for an hour long show. Plus, I would lay some serious money down to bet that once the single editions are all out, that they will put them out in a big box set, that will probably contain new extras. This is Anchor Bay, after all. So my advice would be to get this from Netflix or just wait until they're all out and see what happens. That is what I'll be doing.
But in the meantime, here are the DVD covers and details for the first two releases. We've seen the Gordon one and really enjoyed it. But for us, the Argento one has been the highlight so far. What a fucked up episode.
Stuart Gordon's DREAMS IN THE WITCH HOUSE
DREAMS, DARKNESS AND DAMNATION: An interview with Stuart Gordon

Behind-the-scenes: The Making of DREAMS IN THE WITCH HOUSE

Working With The Master Tribute Interview featurette

SFX: Meet Brown Jenkin

Audio Commentary by Stuart Gordon, actor Ezra Godden, and DVD producer Perry Martin

Trailers, Sill Gallery, Storyboard Gallery, Gordon Bio

Screensavers (DVD-ROM

Original Screenplay (DVD-ROM)

Dreams in the Witch House by H.P. Lovecraft (DVD-ROM)

Release date: March 28th

SPR - $16.98
John Carpenter's CIGARETTE BURNS
CELLULOID APOCALYPSE: An Interview With John Carpenter

Behind-the-Scenes: The Making of CIGARETTE BURNS

Working With The Master Tribute Interview Featurette

Audio Commentary by John Carpenter and writers Drew McWeeny and Scott Swan

Trailers, Still Gallery, Carpenter Bio

Original Screenplay (DVD-ROM)

Screensavers (DVD-ROM)

Release date: March 28th

SPR - $16.98
DARK SKY FILMS RELEASING AMICUS!!!
Dark Sky is becoming my new favorite DVD company. Not only do they continue to put great releases, but they also are getting some great titles to put out.
While it seems that Hammer Films are getting released all over the place over here in the states (not a bad thing, mind you), but what about some of the other British studios that were cranking out some good ones....Like Amicus Productions. These titles had been released in the UK, but now thanks to Dark Sky Films, for those who still don't have that region-free player, you will now be able to add those to your collection. These seemed to have the same extras the UK release, which is very cool, especially the audio commentaries. Here's what you have coming and the extras. Thanks to Fango for the news.
AND NOW THE SCREAMING STARTS!:
• Audio commentary by director Roy Ward Baker and actress Stephanie Beacham
• Audio commentary by actor Ian Ogilvy
• Trailers for all three titles
• Still and poster gallery
• Liner notes and on-disc biographies

ASYLUM:
• Audio commentary by director Baker and cameraman Neil Binney
• Trailers for all three titles
• Still and poster gallery
• Liner notes and on-disc biographies

THE BEAST MUST DIE:
• Audio commentary by director Paul Annett
• Trailers for all three titles
• Still and poster gallery
• Liner notes and on-disc biographies
NIGHTWATCH SEQUEL SETS RECORDS
Frequent readers of this site knows my fondness of the new Russian movie trilogy that is making news as of late. The first episode, NIGHT WATCH, is set to open in the states on Feb. 17th, but I'm not sure on just how wide of a release it's going to get. If it does hit a theater near you, I would highly recommend that you go see it.
The second entry of the series, DAY WATCH, had recently opened in Russia. The opening day was the biggest ever, making over $2 million, pulling in almost $8 million for the 3-day weekend.
This is good news to us in the US, since if it's that popular over there, that means the chance of it getting over here are even better. Plus, the reports say that Fox Searchlight has acquired the rights for all three films. They are planning to release the second film later this year. I just hope that it gets the press that it deserves.
LIKE ITALIAN HORROR?
Here are two guys that either have a lot of time on their hands, or just happen to love Joe D'Amato's ANTROPOPHAGUS, or maybe both. Check out this website devoted to this movie.
1-04-06 A FEW TIDBITS
We're still working on some new reviews, but in the meantime, here's our review of CRY_WOLF, along with reviews for the soundtracks for KING KONG and EFFECTS (with a review of the movie coming shortly).
DEL TORO CAN DO NO WRONG
This trailer has popped up all over the internet, so in case you haven't checked it out yet, do so now. Click HERE to be taken to DVDDrama.com which has a trailer for Guillermo del Toro's newest film, PAN'S LABYRINTH. Just click on the screen. It's basically just a teaser, but it does look pretty cool.
McFARLAND TOYS
While we had stopped buying toys...I mean 'collectibles' some time ago, mainly because there were just too many coming out, it looks like I may have to start picking up a few new ones here and there. McFarland will be releasing 2 characters from Francis Ford Coppola's BRAM STOKER'S DRACULA: the bat creature and the wolf creature. While we're not too thrilled about the wolf one, the bat creature looks incredible. We will be picking that one up for the collection.
You can check more details about these and some other great stuff they're releasing at their website.
WONDERFEST GUESTS
Once again, we are going to try and plan on making it to Wonderfest this year. We've been saying that for the past 2 years, and still haven't made it. But this time, we have another reason other than just being a dealer. They have announced some of their guests for this year. They are artist Joe DeVito, the original Batgirl Yvonne Craig and Bob Burns. But for us, the highlight would be Randall William Cook. Now stop motion fans might know that name from his work on John Carpenter's THE THING, as well as the two THE GATE movies. But our personal favorite of Cook's work is the role he portrayed in I, MADMAN. Cook played the title character, as well as doing his own makeup for the role. Of course, more recently, Cook has worked on some other minor films for some director named Peter Jackson, one regarding some Ring and the other about some big gorilla. No matter what, Cook is one talented guy.
You can check out Wonderfest website HERE.